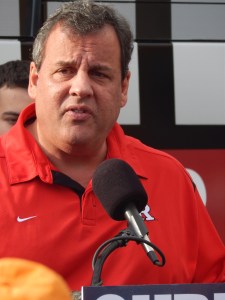 Nearly three months into the George Washington Bridge lane closing controversy, New Jersey registered voters remain skeptical of the response by Gov. Chris Christie and his administration to the burgeoning scandals, according to a new Rutgers-Eagleton Poll. While Christie has stemmed the fall in his personal ratings after a double-digit drop in the wake of "Bridgegate," voters are generally negative about Christie's truthfulness and recent developments in the investigation.
Half of voters have a favorable impression of the governor while 42 percent feel unfavorable, essentially unchanged since February. Job performance numbers also show little change: 55 percent approve and 41 percent disapprove. But, just 22 percent fully believe Christie's explanation regarding the lane closures while 26 percent say they somewhat believe him. The largest group, 49 percent, says they do not believe him at all. As for the recent taxpayer-funded report commissioned by the governor's office that cleared Christie of all wrongdoing, nearly two-thirds say the internal review does not offer an objective assessment, versus three in 10 who say it does.
In addition, a large majority says former Christie administration officials who are refusing to respond to a state legislative committee subpoena should be required to do so despite invoking their Fifth Amendment right to not incriminate themselves. Two-thirds say they should be required to provide the records anyway, while 27 percent believe they should be allowed to withhold them.
Voters overwhelmingly condemn the Port Authority's alleged use of Sept. 11 artifacts, including steel from the twin towers, as gifts to towns with mayors whose endorsement Christie wanted to win for his 2013 re-election, as reported by The New York Times. Three-quarters say this was not appropriate, while only 14 percent say it was and another 10 percent are unsure.
Taken altogether, almost seven in n voters see the set of issues surrounding the developing investigations as serious: 26 percent say they are extremely serious for Gov. Christie, while another 41 percent sees them as very serious. Only a quarter of voters say the allegations are not very serious, and just 7 percent say they are not serious at all.
"Governor Christie appears to have stemmed the decline in his personal and job performance ratings, following their precipitous drop with Bridgegate, but he is not out of the woods yet," said David Redlawsk, director of the Rutgers-Eagleton Poll and professor of political science at Rutgers University. "Not only has he failed to regain any lost ground, but the news that the U.S. Attorney has convened a grand jury investigation ramps up the stakes. Given the underlying skepticism about the administration's actions, Christies' continued positive ratings may not hold up for the long term."
Results are from a statewide poll of 816 New Jersey adults contacted by live callers on both landlines and cell phones from March 31to April 6, 2014. This release reports on a subsample of 731 registered voters with a margin of error of +/- 3.9 percentage points.