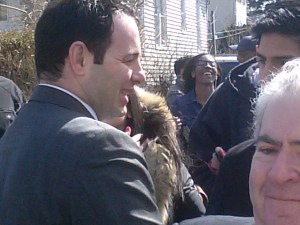 The Northeast Regional Council of Carpenters (NRCC) today endorsed Andre Sayegh in the race to become the next Mayor of Paterson. In making their endorsement, the Carpenters cited Sayegh's work on the City Council to improve the business climate in the Sixth Ward and all of Paterson as well as his vision for future growth and development.
"Andre Sayegh has tirelessly worked to make Paterson's Sixth Ward a place where businesses are welcome. He has worked with law enforcement to enact simple, yet effective measures to combat crime which have greatly improved both residents' quality of life and business atmosphere," said Mike Capelli, Executive Secretary Treasurer, Northeast Regional Council of Carpenters. "With an enhanced quality of life comes new development which leads to building and construction and jobs. As Andre strives to change Paterson for the better, we look forward to moving the city forward with him. Paterson is a city with so much potential and we feel that Andre Sayegh is the best person to move Patersoninto the future."
Sayegh thanked the NRCC for their endorsement.
"Today, I am proud and humbled to receive the Carpenters' endorsement of my candidacy. It is gratifying to know that the leadership and members of the Northeast Regional Council of Carpenters have seen and are embracing the work that we've been doing, neighborhood by neighborhood, block by block." Sayegh said. "The key to Paterson's future is to create a business friendly environment which will drive development, spur job creation and ignite economic growth. With the Carpenters at our side, we can make this a reality. At the end of the day, we are one people with one purpose, constituting one Paterson, yet for too, too long, Paterson has lacked the leadership to move our great city forward. I am ready to lead, but one person can not do it alone. In the Carpenters we have a proven, outstanding partner that will help restore Paterson and make it the best that it can be."
The Northeast Regional Council of Carpenters is the premiere skilled trade organization representing carpenters in New Jersey and New York State. NRCC is an industry partner, supplying a diverse and highly trained workforce. It is the source for representation, benefits, and training for 30,000 members in every craft in the carpenter trade.