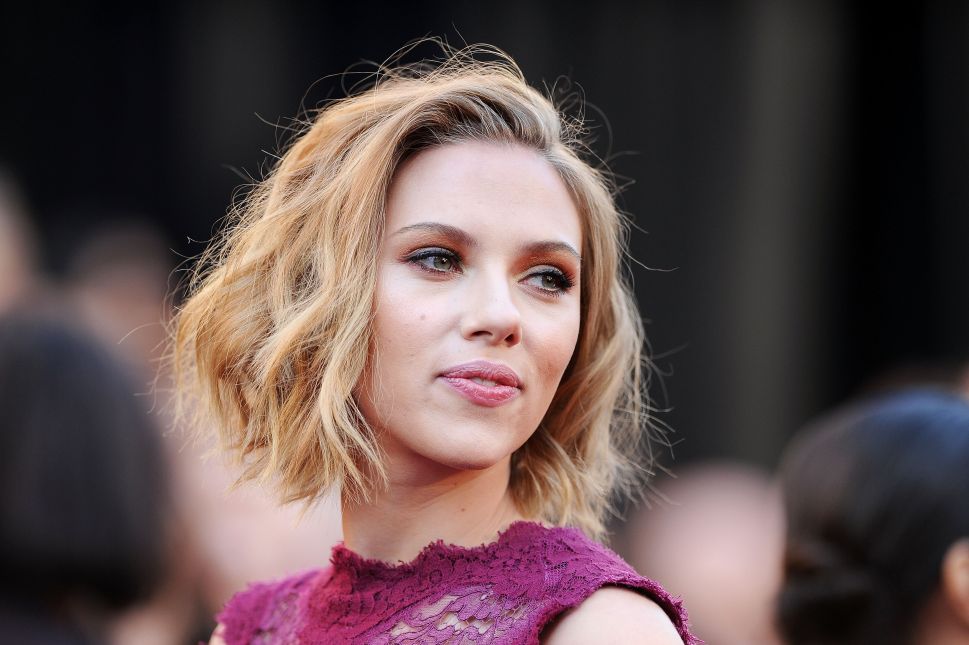 Dream girl Scarlett Johansson digs for oil and hits a dry hole in Under the Skin. As always, she has stunning sex appeal, stunning skin, a stunning smile and a stunning ignorance about how to choose the right roles. Her beauty and talent are not enough to save a movie this bad from the slag heap.
---

Under the Skin ★
(1/4 stars)

Written by: Walter Campbell
Directed by: Jonathan Glazer
Starring: Scarlett Johansson, Paul Brannigan and Lynsey Taylor
Running time: 108 min.

---
Writer-director Jonathan Glazer is a veteran of film trailers and music videos for acid rock groups, which very likely explains his disjointed, confusing and utterly incoherent movies like Sexy Beast (2000) and the abysmally pretentious Birth (2004). This is his first film in nine years. Damn. Too bad he couldn't wait another decade or so. A lot of otherwise sane people might be retired by then, including Ms. Johansson, whose last three flops indicate she's not doing such a swell job of looking out for her career. Under the Skin is even worse than Her, in which she played a robot looking for love. This time, she's a creepy, voluptuous alien from outer space who roams the highways of the Scottish highlands in a mink coat looking for sex. She stalks the streets and fields, searching for men with lost souls—stripping them, seducing them and leaving them vanished in the ozone. The victims don't matter. They're as lifeless as Post-its. 
The point, if there is one, is that when a sexy lady alien tries to have real sex on the planet Earth, it's not what it's cracked up to be. She really wants to be human, but she can't even swallow a piece of chocolate cake without gagging. When she tries to go all the way, oh baby. E.T. phone home! You see, they forgot to give her a vagina. Believe it or not, this is not a comedy (although you didn't hear it from me).
Don't try to figure out anything that passes for a plot. The disturbing, solitary lady predator at the center of the action is programmed, like an iPod, without human feelings. The imagery she leaves behind is all there is to a film that is almost totally without dialogue. She leaves a screaming, terrified baby alone on a rocky beach in the path of an ocean wave. One guy follows her naked across a floor that turns into liquid and then sinks into inky blackness, never to be seen again. Sometimes she just sits in the gridlock of Glasgow, listening to morning radio newscasts. At one point, she picks up a grotesquely disfigured human reject with a bulbous head like a root vegetable. We never do know what happens to him. After a few moments in her company, he wanders through the forest, heading for a lake. Occasionally, the victims speak, in brogues so thick you can't understand a word they say. Then she goes home with a man who turns on the telly and subjects her to a Scottish version of America's Got Talent, which, hard to fathom, is worse there than it is here. 
Poor voluptuous peapod. She can drive a truck and ride a motorcycle, but they forgot to tell her what to do with her own anatomy—or lack of it. The abstract bars and alleys make Glasgow look like a Martian shopping mall, and when at last Ms. Johansson unzips her body and you see what CGI effects really lie hidden mysteriously "under the skin," you may wish you had left early. I certainly wish Ms. Johansson hadn't shown up at all. She's never less than interesting to watch, but Under the Skin is a big waste of her time. After applauding her remarkable work onstage in Arthur Miller's A View from the Bridge and Tennessee Williams' Cat on a Hot Tin Roof, I say come back to Broadway, girl, where your work is appreciated—and rewarded, too.