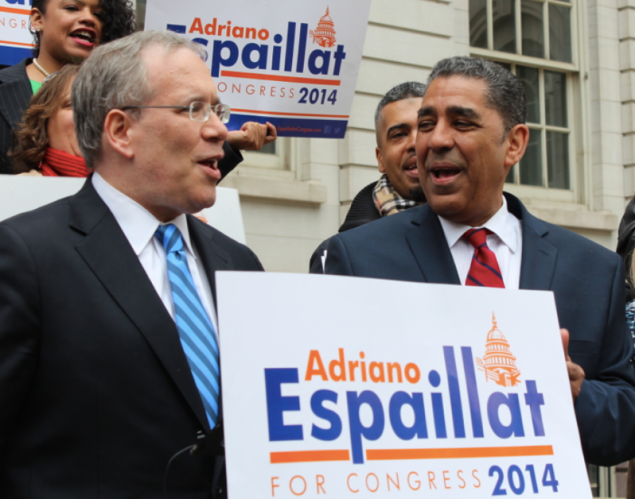 Congressional hopeful Adriano Espaillat can add Comptroller Scott Stringer to his list of supporters.
Mr. Stringer formally announced his endorsement of Mr. Espaillat's campaign to unseat veteran Congressman Charlie Rangel at a press conference outside City Hall this afternoon, citing the state senator's efforts to improve affordable housing and small business opportunities in New York.
"Adriano is a proven fighter in our State legislature, and I am proud to endorse his candidacy," Mr. Stringer said.
The comptroller's endorsement comes in the midst of a heated primary race between Mr. Espaillat and Mr. Rangel, who defeated Mr. Espaillat by a slim 1,100 votes two years ago in 2012. During the 2012 race, Mr. Stringer, who grew up in Washington Heights and used to represent parts of the district, threw his support behind Mr. Rangel. But today Mr. Stringer said it was time for the long-time representative to give up his seat.
"I have tremendous respect for Congressman Rangel," Mr. Stringer said. "So to me, my endorsement two years ago was a recognition that he should have those two years to go out and finish the work that he's doing. By all indications it was signaled to me that [2012] would be his last term in office."
Mr. Espaillat also used the press conference to highlight some of his campaign platforms, chiefly pushing to increase affordable housing and secure more funding for public housing–two causes Mr. Stringer has also been pushing. "Congress has cut over $2 billion in funding for NYCHA," Mr. Espaillat said. "I want to go to Congress to bring back the dollars that are necessary in those housing complexes. I want to make it affordable for people to live in New York City."
Mr. Rangel is not without his high-profile endorsements, however. Today, former president Bill Clinton formally put his weight behind Mr. Rangel. "I'm happy to endorse my good friend Charlie Rangel for Congress," Mr. Clinton said in a press release. "Charlie has been a champion of more good jobs, successful small businesses, and strong families for more than 40 years. That's what his district and our country need now."
But the Espaillat camp seemed to brush off this powerful endorsement.
"When you get the endorsement of a former president, it matters. And I'm a former borough president," Mr. Stringer joked.