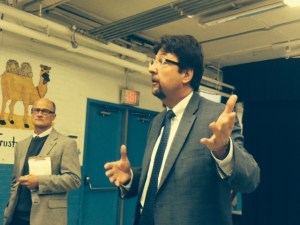 NEWARK – Charles McKenna, the executive director of the state Schools Development Authority, faced a crowd of parents, politicians, activists and administrators at South Street School in Newark's Ironbound section on Tuesday night. The main topic of discussion was the upcoming construction of the new version of the school, which was built in 1883 during the administration of the 21st President of the United States, Chester Arthur.
"Governor Christie wants this school built," said McKenna, who became the head of the SDA in December, in reference to the approximately $50 to $60 million South Street School project, estimated to be completed by 2017.
The year 2016, however, could be a critical year of Governor Christie if he seeks the Republican presidential nomination. At the same time, the ongoing state and federal investigations into last year's George Washington Bridge lane closures, a.k.a. the Bridgegate scandal, continue to cast a shadow over the Statehouse.
Despite these considerable distractions, McKenna told PolitickerNJ.com that no matter what, the Christie administration's business of school construction will proceed as usual in the months ahead.
"That's why he has me," McKenna, Christie's former top counsel, said. "We have a mandate to go out and build schools, and that's what we do. The fact that there is an investigation about the George Washington Bridge has no effect on that. We have committed $2.2 billion worth of funds out on the street now for schools like this. The money is committed. After that, there is probably another $350 million [worth of school construction projects] out there after all the commitments that we have. We're ultimately going to need more money."
Another other school-related issue hanging over Newark is the controversial One Newark school reorganization plan, announced by Newark School Superintendent Cami Anderson in December.
The plan includes the expansion of charter schools, which already serve approximately 20 percent of the city's students, as well as the closure or consolidation of certain public schools.
Newark's schools were placed under state control in 1995. Anderson was appointed by Gov. Chris Christie to head the Newark school district, New Jersey's largest, in 2011.
The timing of the introduction of the One Newark plan, which came just at the start of the 2014 Newark mayoral campaign season, has ignited Newark's already volatile politics.
Standing in the South Street School's cramped central office, school principal Karen Gray looked around the school where she has had the head job since 2001. The almost 400 students under her care need much, including more than one bathroom each for the boys and girls who come to school every weekday to prepare for the future.
The future of Newark's schools may be uncertain, but Gray is certain about what her pre-K to fifth grade students need.
"All I can do is hope. I just hope that the state comes through with what they say, despite Cami, despite the mayoral race, despite Bridgegate, despite anything," Gray said. "The community desperately needs this new building. Forget everything else that going on. We've got to take care of the kids. The kids deserve it."