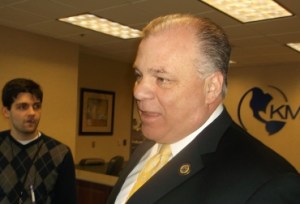 CHAMBER TRAIN – As chamber train goers packed the cars on the way to Washington D.C. there were a couple legislators noticeably absent.
Senate leadership from both parties.
Senate President Steve Sweeney (D-3) and Senate Minority Leader Tom Kean Jr. (R-21) were nowhere to be found. Neither lawmaker is expected to attend the events in Washington D.C. later tonight, as well.
"With the change of dates of the chamber event the Senate president's schedule did not allow for him to attend, however he would like to thank the chamber for their continued commitment to ensuring that the needs of New Jersey and our businesses are front and center in the nation's capital," Sweeney spokesman Chris Donnelly said.
(Sweeney is known to rarely, if ever, take the train.)
Kean told PolitickerNJ he attended the New Jersey Chamber of Commerce events in Newark ahead of the train setting off.
Of the state Senators PolitickerNJ spotted on the Chamber Train were Sens. Steve Oroho (R-24) and Sam Thompson (R-12).
Also, Sen. Donald Norcross (D-5), who's currently vying for a seat in Congress, was onboard, as was Sen. Robert Gordon (D-38).
Assembly Speaker Vincent Prieto (D-32) and Assembly Minority Leader Jon Bramnick (R-21) were both making the rounds on the train.