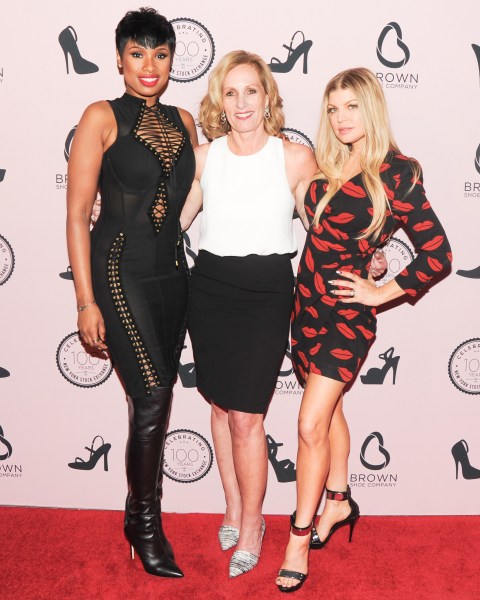 Spring sprang in the form of clustering bunches of cherry blossom and pink and white peonies, for the Brown Shoe Company's celebration of 100 Years on the New York Stock Exchange. The star-studded event was produced by super-designer David Stark and panoramic 360-degree views of the city, alongside a pretty, shoe-printed backdrop to the stage, completed the perfect setting.
Diane Sullivan, CEO and president of Brown Shoe Company started the evening by ringing the NYSE closing bell with her team and ‪Grammy-award-winning artist Fergie. Everyone then headed off to the main bash featuring a performance by Oscar winner Jennifer Hudson.
"Ringing the bell today, well Diane rang it and I did the banging of the gavel, was exhilarating." Said Fergie. "It was more thrilling than I thought it was going to be. It was just so exciting to be up there looking at this room that I've seen in so many movies. I feel very blessed to be with a company that's been around longer than I have."
"It humbles us to be part of such a small group of companies to celebrate 100 years on the NYSE. We're only the 24th company to do this, so it's very exciting for us," said Ms Sullivan.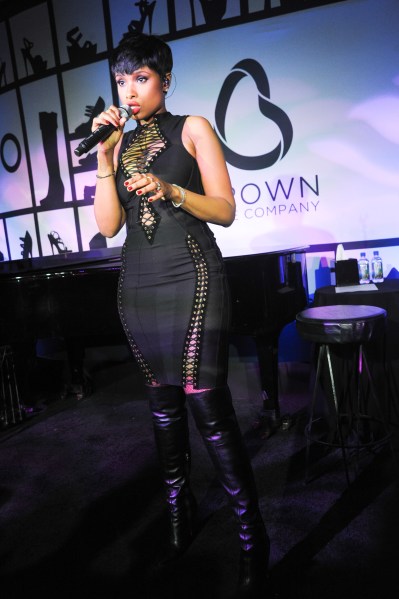 The $2.5 billion, global footwear company owns the licensing to Vince, Sam Edelman, Carlos Santana and Fergie Footwear, to name a few fashion labels under their umbrella. "I'm the third generation of my family to do business with Brown Shoe. We are thrilled that they bought our company and we're really lucky to be a part of their history." Sam Edelman told Shindigger.
Shindigger toasted the Brown Company's milestone with a crowd full of JHud fanatics including, Nelly, Estelle, Derek Blasberg, Sam Edelman, Libby Edelman, and Kenneth Cole.
Estelle praised her gal pal, "Jennifer Hudson's my girl. There's no favorite song, there's a favorite Jennifer."  While Nelly added, "I love Jennifer on the screen. I think she's the most talented screen actor and musician. I would love to see her in more movies that are musicals. I don't think there's any other artist like that, and she combines singing and acting so well that she might be the best ever at it."
Guests had the choice of enjoying either pomegranate margaritas in mini Patron bottles or a more sultry bacon and bourbon concoction. An oyster bar, mini pizzas served in personal boxes and a burger station accompanied the swanky drinks.
Sullivan then gave a short thank you speech before introducing Jennifer Hudson, saying, "We are big fans of hers, and she embodies everything we want to be as a company."
Jennifer Hudson put on a performance nothing short of spectacular in the form of a , thirty minute set including "Spotlight," "Can't Describe" "Don't Look Down," and "Angel." She then put her best foot forward with "I'm Every Woman," "How Will I Know," and "I Wanna Dance With Somebody." The entire room loved her, and even Shindigger busted a move.
Photos by BFA