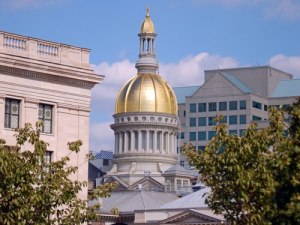 TRENTON – Democratic and Republican lawmakers sitting on the joint legislative committee investigating the George Washington Bridge lane closure controversy briefly traded jabs before going behind closed doors to meet with counsel.
The war of words kicked off when Assemblyman John Wisniewski (D-19), co-chairman of the joint committee investigating the Gov. Chris Christie administration, charged a Republican lawmaker with "showboating" during her opening remarks.
"John, she's not," Sen. Kevin O'Toole (R-40), coming to the defense of Assemblywoman Amy Handlin (R-13), who pressed the committee to move on legislative proposals she drafted that Handlin argued would bring accountability to the Port Authority.
"We're here, we're here to do a job," O'Toole continued in a calm voice.
"I think we owe Amy the same respect," he said. "I just don't think it goes anywhere by taking a shot."
And with that, the conversation escalated to a shouting match.
Wisniewski charged O'Toole with attempting to pull one over Democratic committee members by requesting Handlin have a moment to speak before going into closed session and knowing that she intended to request the committee act on proposed legislation.
"Then subsequent to that statement there's a resolution on that desk … to ask the committee to act on legislation," responded Wisniewski, his voice rising, adding O'Toole "deliberately misrepresented" what was happening at the meeting.
"Don't trade charges with me about deliberately misrepresenting [the process]," O'Toole shot back loudly. "I take exception to that charge."
The brief shouting match ended with lawmakers going behind closed doors to discuss the investigation with counsel.
(Click for video of the confrontation beginning at about 9:15.)