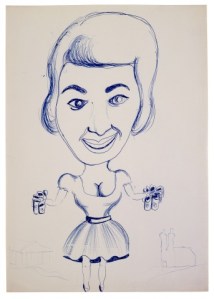 While the Museum of Modern Art's current retrospective is a rambling tour through Sigmar Polke's career and prodigious output in a dizzying array of mediums, this show at his longtime New York gallery, Michael Werner, is a sustained meditation on one period: Polke's formative years in 1960s West Germany. The economy was roaring, giving rise to American-style consumerism, and Polke spent the decade sending up the status quo. Judging by the 100 works on paper here, he was positively giddy, as effervescent as the towering glass of bubbly he sketched around 1963. It sits on a table before two grinning balloon heads, a bunny and this note: "Sekt für alle" ("Champagne for all").
Cute little depictions of delights like pralines, donuts and butter (the joys of newfound abundance) share space with a buxom Dirndl girl ferrying beers and a Solides Mädchen (Respectable Girl) in a short white dress. Polke sends pop culture, art history and visionary imagery into mad little dances, at once sardonic and sincere. Spare abstractions baffle and thrill. Lauding the artist's expansive range has now almost become cliché, but it is all the more remarkable when he's working small.
Shuttling between this show and the MoMA retrospective provides plenty of opportunities to spot passages of drawings—the odd cartoon, the clever abstract stroke—that ended up in other works, and to get a sense of an oeuvre that never held its shape, that was always morphing, growing, folding back on itself. The more time you spend in the labyrinth of Polke's output, the more complex and remarkable it appears.
(Through June 7, 2014)