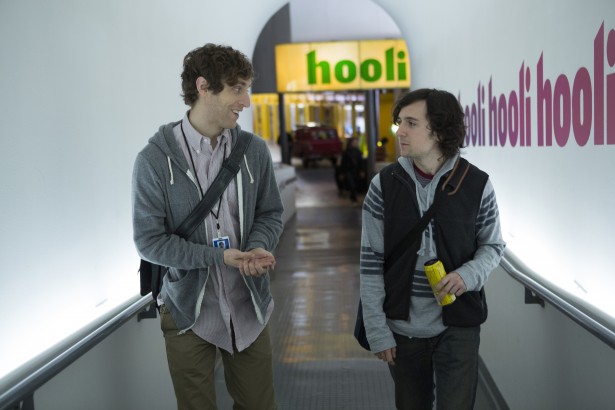 Last night, sandwiched between a brand new Game of Thrones season opener and a delightful Veep premiere, HBO regaled viewers with Silicon Valley, Mike Judge's new show about the eponymous tech epicenter.
Few have tried to present America's tech scene on TV or film, and even fewer have succeeded. Combine that with the fact that Mike Judge, of Beavis and Butthead, Office Space and Idiocracy fame, is the show's creator, and you have one of the most highly anticipated series premieres of the year.
The half-hour comedy is showing Sunday nights at 10 p.m. (or any time after 10:30 if you've managed to date someone with an HBOGO password in the last year or so). Betabeat will be watching each episode and recapping it with a conversation between Molly Mulshine, Jordyn Taylor and Jack Smith IV.
Here we go:
Jordyn: Right from the get-go, I was taken back to South by Southwest.
Molly: Same.
Jordyn: I really felt transported. All the groups of geeky guys standing around, not knowing what to do with their hands. Not really caring about the "cool" music act.
Molly: I don't know if Kid Rock is cool. Or even "cool." But I know what you mean. I love that the startup having that party is called Gulibib and the other one is Hooli.
Jordyn: It's really reflective of the quality of startup names currently out there, in that they are bad.
Molly: The best part in that first scene was the "startups will change the world"-speak. The Gulibib guy says, "We're making a lot of money and disrupting digital media, but most importantly, we're making the world a better place through constructing elegant hierarchies for maximum code reuse and extendiblity."
Jordyn: YES. And they say it totally unironically. But that's the thing about startup culture — you have to be delusional to even try, because most startups will fail.
Molly: Gulibib was celebrating the fact that they were bought for millions of dollars. I think they use that kind of speech to validate their newfound immense wealth. It helps them to feel less guilt for suddenly being so rich.
Jordyn: Oh, interesting. Yes.
Molly: They're like, "Oh, shit, I am just an average guy and I have a million dollars now… But my code CHANGED THE WORLD." And it's like, wellllll, the world was doing okay without your code probably.
I also really enjoyed how in the first scene, the guy Erlich (who clearly has seen The Big Lebowski about 100 too many times) mentions "the incubator," then you see it and it's a shitty old ranch house.
Jordyn: Every time I interview someone from a porn-based startup, I can tell that's exactly what their "headquarters" is like.
Molly: I already feel some sort of maternal protective instinct over Richard.
Jordyn: I'm just worried I'm going to get worn out by his extreme nerdiness. I even grew tired of it by the end of the episode.
Molly: Yeah, I wanted to give him a pep talk.
Jordyn: I just want him to be a little more dynamic.
Jack: It was great the way Erlich kept pronouncing his startup's name.
Jordyn: "Aviato," with like a Spanish lisp.
Molly: I liked how he had the hair clip for when he eats, like the Dude. Erlich is probably the richest character so far.
Jack: Erlich is like the stoner Obi-Wan Kenobi for the main character.
Molly: Yeah, he's like the "been there, done that" character who acts like he knows everything but doesn't really deserve to. I think he struck gold with Aviato by accident and sold, and now he looks at himself as a startup sensei.
I think that will have to be a big theme on the show, people not actually knowing where they stand in terms of skill. Because even with Richard's startup Pied Piper, he discovered the only marketable part by accident.
Jordyn: It embodies the startup scene in general. Everyone's just trying to make it but there are no rules and no one knows what they're doing.
Jack: Except for people with serious money.
Molly: Yeah, once you have the money you're untouchable no matter what. The Peter Gregory character seems like a total goober but he's rich, so it doesn't matter.
I really liked that tragic guy who was pitching the binary code Spaghetti-o's. That person is a great stand-in for the questionable Kickstarter pitches we get every day, like the "wearable tech purse" that just had a transparent sleeve for your iPad.
Jordyn: Or the special grip that keeps your iPad from falling on your face — just what I've always wanted.
[Jordyn accidentally lets rip a spoiler from the next episode and everyone freaks out because she won't stop spoiling it.]
[Ryan Holiday enters the room.]
Jordyn: So what did you guys think of Richard's other incubator buddies? They reminded me of the motley crew in Hot Rod. Have you guys seen Hot Rod? It's the best movie ever made.
Jack: Jordyn, we don't have that movie here. Is it some kind of Canadian folklore?
[Jordyn is Canadian.]
Jordyn: No, it stars Andy Samberg.
Ryan: Hot Rod is amazing. WHISKAY.
Molly: Okay, so how is it like Silicon Valley? What's in the middle of the Hot Rod-Silicon Valley venn diagram?
Jordyn: Similarity of characters. Dorky people trying to pursue something grand, but it's really only grand within the context of their own weird little world.
Molly: Well, Silicon Valley is grand because there's potential for incredible wealth.
Jordyn: True, but it's still a weird little world that is so odd in the context of the rest of the universe.
Molly: What is Silicon Valley even comparable to? It's not a Don Quixote story, because Don Quixote was nuts and had no chance of actually succeeding. It's not David vs. Goliath, because you have to have a leg up in life even to learn how to code.
Jordyn: Is it a hero's journey?
Molly: But heroes are usually hot. 🙁
Jack: It's definitely a hero's journey.
Molly: I guess they can be hobbits.
Jordyn: So Silicon Valley is about hobbits who do #tech.
Molly: The Lord of the Rings "ring" is who can be the best startup.
[All three of us at once say Erlich is Gandalf.]
Molly: Richard is Frodo. Whats-his-face Fat Head is the shitty hobbit Sam.
Jordyn: Big Head is Sam.
Molly: Big Head, yeah. And the only girl in Silicon Valley is the only girl in Lord of the Rings. Easy one.
But who's Gollum?
Jack: Everyone.
Jordyn: And who's Sauron? Probably the guy with the green shoes, right? Sauron is like this big evil entity.
Molly: Oh, Steve Jobs.
Jack: We can't do Lord of the Rings.
Molly: We could do Star Wars, except there's not a single a black person in Silicon Valley so far, meaning there would be no Lando Calrissian, so there would be no point.
Jordyn: I was just about to ask how we felt about the diversity issue.
Molly: Everyone's white, Indian or Asian, and there's only one woman. Is Silicon Valley trying to present a harsh reality in the vein of Mad Men, or is it accidentally forgetting diversity like Girls, season one?
Jack: The diversity issue isn't limited to the show. It's Mad Men true-to-life.
Molly: Right, but I think there's probably more than ONE woman in a given Silicon Valley social or professional circle.
Jordyn: Yeah, there are definitely more women than that.
Jack: Especially since she's the token future girlfriend of the main character who teaches him how to feel and love and talk to women.
Molly: I hope she's not his future girlfriend. I just don't think they'd date in real life. But, of course, in TV and movies, unremarkable men date super hot women constantly.
Jordyn: If she becomes his girlfriend, there's a danger she'll only exist in relation to him. It would be cool if there was a female character who was more of a protagonist.
Molly: One thing they really nailed was how often the nerdier tech guys bash women. That really transported me to SXSW and overhearing guys like that saying horrible, disparaging things about women who would probably never talk to them.
Jordyn: Maybe, [she begins to spoil the second episode again].
Molly: STOP, YOU ARE RUINING THE PLOT.
[The chat is now over. Following her treasonous attempt at spoiling Silicon Valley, Jordyn texts Molly over the weekend to expand upon some of the thoughts she'd floated in the chat.]
Jordyn: I was thinking of our comparison of Silicon Valley to LOTR, and if the show follows the structure of the hero's journey, like LOTR does, then by law, Erlich must die.
Molly: Ohh good!
Jordyn: There must be a death of a mentor, which forces the hero to fight his own battles. It's like when Dumbledore died in Harry Potter, and Gandolfini [auto-correct for Gandalf]. The mentor gives the hero all his wisdom throughout the first part of the story, and then the hero is truly tested when his mentor dies. Even though Erlich is an idiot, Richard looks up to him.
Also, in every hero's journey, the hero must return home after his journey is complete, and find that home is not how he left it — or that he can no longer fit in there. That doesn't come until the end, but I could see Richard ultimately getting fed up with Silicon Valley culture and going to pursue dairy farming in Wisconsin or something.
Tune in next week to find out what Jordyn was spoiling.
Click here for more Betabeat coverage of HBO's Silicon Valley.