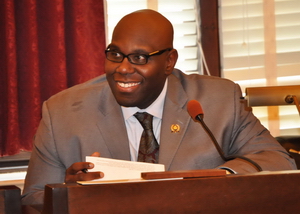 TRENTON – At an Assembly Budget this morning, legislators pressed Department of Community Affairs Commissioner Richard Constable to explain how the state dispensed aid to Black and Latino victims of Hurricane Sandy.
Constable objected to what he said is an offensive mischaracterization of minority victims disproportionately failing to receive Hurricane Sandy aid.
Assemblyman Troy Singleton (D-7) noted that 80% of minority applicants to the Reconstruction, Rehabilitation, Elevation, and Mitigation Program did not receive aid.
Trying to fend off an aggressively questioning Singleton, Constable's office supplied the following figures to the Budget Committee:
89% of African-Americans did not meet the $8,000 damage threshold;
72% of Latinos did not meet the $8,000 damage threshold;
And 68% of White applicants did not meet the $8,000 damage threshold.
Those who failed to receive aid also could not prove that their homes received at least a foot of water, according to the Department of Community Affairs.
Assemblyman Gary Schaer (D-36), chair of the committee, came away dismayed from a cross-examination of Constable on how the state awarded bids for Hurricane Sandy cleanup.
"I have the warmest affection for you personally,' Schaer told Constable. "I am more convinced than ever this legislature has a role in oversight."