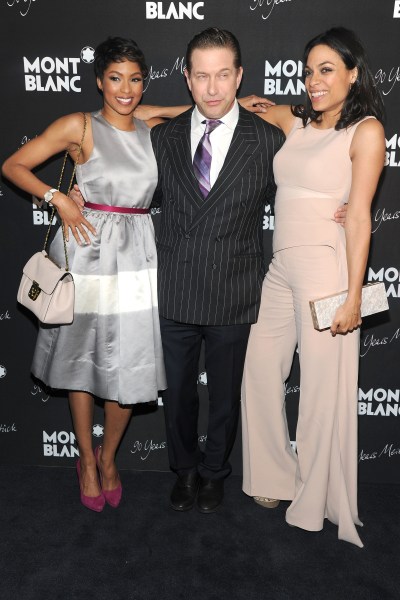 "Before I went to Broadway, I was in beautiful regional theaters all across the country," Kristin Chenoweth was saying at the Pierre, the home of last week's National Corporate Theatre Fund Chairman's Awards Gala, where Ms. Chenoweth received a Theatre Artist Award. "This is what the whole foundation is about: putting on shows that are Broadway quality in the heartland."
Not that it was all roses, the actress hastened to add. "One time, at the Guthrie Theater, I was doing Babes in Arms," she recalled. "I thought my wig was tacked down before I did a big tap dance down a lighted staircase while singing 'Keys to Heaven.' It turned out to be 'Keys to Hell!'"
The Glee regular was soon joined by actress Kathy Najimy, who declared herself Ms. Chenoweth's soul sister, saying the two were "like tabbouleh and coleslaw!"
"She was Miss Oklahoma. I'm pretty sure I picketed that pageant naked," the Veronica's Closet star giggled. "I can't fit in her clothes, but she could fit on my keychain!"
Ms. Chenoweth has been afflicted by spring fever. "I just moved into a new place in New York, and I really want to purge," she divulged. "I need to get rid of things. We have too much crap in our lives!"
"Who's going to help with that?" Shindigger asked.
"Oh, I'm gonna get a friend," she responded mysteriously.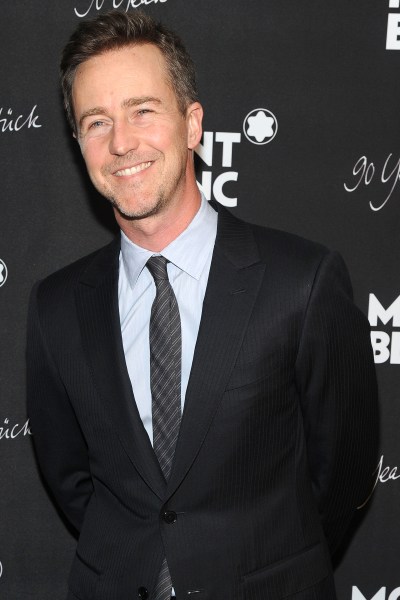 On Thursday, Montblanc celebrated the 90th birthday of its Meisterstückfountain pen, the writing utensil of choice for Presidents Barack Obama and John F. Kennedy, as well as Prince Charles and Princess Diana.
"I don't collect pens," admitted Edward Norton as Chanel Iman and Alex Wek mingled at a Champagne reception at Gustavino's in Midtown. "My relationship with Montblanc is specific: my theater company, the Signature, has a tradition of working with a different playwright every year, and we have a Montblanc pen that gets passed on every year." He added: "On Monday, we're honoring Michael Bloomberg for his contributions to the arts and giving him a pen."
Actress Rosario Dawson was more interested in actual writing, especially if it involved a particular color.
"I love purple!" she gushed. "And there's something so romantic about the written word. I also collect Playboys. I love them!"
Still, even Ms. Dawson was prepared to let go.
"Are you purging anything this spring?" Shindigger wanted to know.
"I'm embracing where I'm at," she said. "There are certain clothes I won't be wearing any more. I have a lot to offer my cousins. I'm keeping it in the family."
Shindigger has a hunch she won't be parting soon with the Elie Saab blush jumpsuit that she had on.
Pens weren't on the coveted list of Penn Badgley, either. But "I love a Fender Telecaster guitar," offered the Gossip Girl leading man, just before the appearance of lobster salads and glasses of Pouilly-Fuissé. As for spring cleaning, "I spent the last couple of months getting rid of stuff and don't have much left."
"How did you get rid of everything?" we prodded.
"I put all my stuff in storage and left the country for a while," Mr. Badgley said. "I had to get this suit of storage," he confessed.