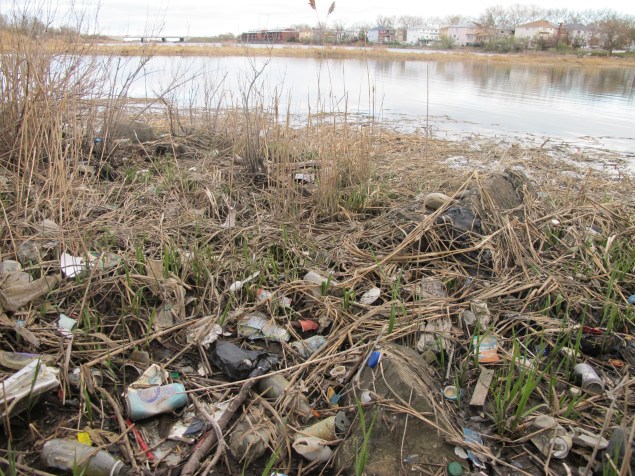 "Central Park is a paradise unlike anywhere else in the world," proclaimed Hedge Fund Billionaire John Paulson in 2012. He then agreed to donate $100 million to the Central Park Conservancy, a private group charged with the park's upkeep and maintenance. Part of the funding was funneled into an endowment already vested with $44 million, while the remainder was poured into capital improvements, like restoration of the North Woods and landscaping at Merchant's Gate.
On the other side of the Harlem River, there's a different reality.
"I took my daughter to St. Mary's Park in the South Bronx and was so disgusted," said Nicole Francis, a local resident. "Why is it so dirty?" Her complaints to the Department of Parks and Recreation went unanswered. Despite her daughter's pleas for more outdoor play time, Ms. Francis refuses to return.
"It's unacceptable that good parks and pools have become a luxury for neighborhoods that can most afford them, rather than something every New Yorker has access to," said State Senator Daniel Squadron.
Mr. Squadron, a Democrat representing the 26th District and former candidate for Public Advocate, proposed that 20% of all revenue raised by conservancies with $5 million or more be diverted to city parks that aren't as well off.
"Large conservancies get millions a year from private donors," Mr. Squadron said. "But the parks that find it hardest to get support are the ones that need it the most."
Squadron's idea has the support of at least one conservancy—Flushing Meadows Corona Park—and the supposed imprimatur of the de Blasio administration.
But the backlash to the proposal has been intense. Crain's New York Business called it "one of the most misguided efforts in memory" that would "cannibalize the conservancies," which were only established as a stop-gap for insufficient public funding. Most private donors and groups are similarly outraged.
"Why wouldn't it be better to have [the conservancies] share their expertise…rather than doing something that will undoubtedly chill [investors'] donations and…threaten their sustainability?" asked Holly Leicht, the former Executive Director of New Yorkers for Parks, an independent research and advocacy organization, during an event on the subject in November.
One procedural hurdle with any revenue-siphoning plan is a claim by conservancies that they are independent non-profits, and therefore cannot be mandated into sharing funds. But Mr. Squadron disagrees, arguing in a recent City Council hearing that parks conservancies are "entities that exist as a result of a contractual relationship with the City," and thus, the City has a right and responsibility to set the terms of such a relationship.
"The City has an obligation to consider its broader values and goals as it pursues partnerships with conservancies," Mr. Squadron testified. "The role of the conservancy in its partner park is an important factor, but must not be the only one the City considers."
Local politicians representing neighborhoods near Prospect Park in Brooklyn, where the Prospect Park Alliance provides supplemental maintenance through private donations, have cautioned against the plan.
"While I don't agree with [the] proposal, it is thoughtful, value-based and advances [an] important issue," said Brad Lander, a City Council member representing Park Slope.
Others argue that an examination of the Parks Department's Budget is needed most of all.
"Addressing inequities must begin with the public budget. There are several specific budget and policy reforms that the administration can undertake," Tupper Thomas, the new Executive Director of New Yorkers for Parks, wrote in a recent op-ed. Proposed reforms, Ms. Thomas said, include increased capital funding and an expanded workforce.