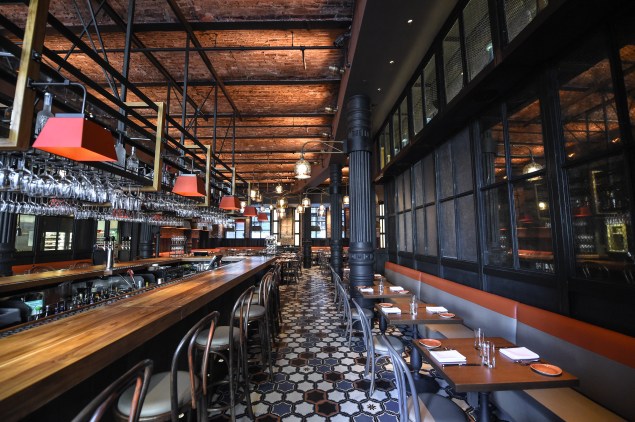 To like Bobby Flay and to give his new restaurant, Gato, a fair shake, one must not watch that infamous 1997 Iron Chef clip, when—during a losing battle with Chef Masaharu Morimoto—he sprung up on his cutting board to raise his fists in victory, desecrating a space many chefs view as a sacred.
One must willfully ignore his long-waged public campaign to turn every plate into a battlefield, casting himself as the victor on shows like Throwdown! with Bobby Flay on the Food Network and more recently, Beat Bobby Flay. One must, in fact, turn off the television completely, so saturated is the man's presence.
Further, one must also glaze over the fact that the restaurant—a cavernous 3,640 square-foot first floor on Lafayette Street—replaced the Bowery Residents' Committee's drug rehabilitation center, which had been there since 1976 and that this progression tidily embodies New York City's shift from accommodating a range of people to catering to a subset. Skip Pikkety's Capital in the 21st Century. Just go to Gato.
But I urge you to set that all side. Because, if you do, you might discover a restaurant of considerable charm and rediscover a chef you—or at least, I—had dismissed as a TV flimflam man.
It's about six weeks into Gato's existence and on a Friday night, the place still seems more like an architectural rendering of a hotspot than an actual one. Designed by the heavy-hitting Rockwell Group with branding by Pentagram, Gato is one slick kitty. The vaulted brick ceilings are preposterously high. The hexagonal tile floors are custom made in Vietnam and a large rectangular wooden bar probably decimated an entire valley of old growth. It's glossy and pixel perfect. Even the hostesses, a trio of pedestal-like sirens, seem like computer-generated pleasurebots.
Gato is very nice, consummately professional, quite unsurprising and very safe, which is also an apt description of Flay's cuisine. But before you or I dismiss it, to this not very flattering list of descriptors I'd also add frequently delicious. Though Mr. Flay is the master of playing it safe, he also shows flashes of the brilliance that brought him so much early fame.
Six years ago, Flay closed his Spanish-inspired restaurant Bolo, and early reporting about Gato indicated it would be a Bolo 2.0. But, you know, YOLO. Flay says one night he saw a cat streak by and—this is how inspiration occurs—decided to call it Gato instead.
Bolo was a very good restaurant, and Gato has many similar dishes. A tuna tartare served in a piquillo pepper seems beamed from the mid-1990s, when Bolo first opened. A 12-layer potato cake is resurrected as an 11-layer one. But it's just as creamy, equally satisfying and, anyway, one layer every seven years is not such a bad rate of attrition.
On the bar menu is a three-for-$17 mix-and-match where both the risk and the payoff are relatively low. A squid-and-bacon salad looked like oversized SpaghettiO's with a pork infection. It was exactly what it was and no more. And though the tuna tartare, which looked like a red-hued sashimi snow cone on its side, is correctly prepared and well-counterpoised by the slight spice of the pepper, again: basic.
---

GATO
324 Lafayette Street
★★
New York, NY 10012
(212) 334-6400
gatonyc.com

---
Fortunately, real adventure awaits at a table, once one is led by one of those entrance-sylphs through the bar and past men who look like advertisements for whisky and women who look like foil-cards of normals.
The part of the menu where the pastas, pizzas and mains dwell, is dubbed "Kitchen" and that is both where one is apt to find Mr. Flay working the line and to find him at his most inventive. Much has been made of the fact that Flay himself works the line. His presence does imbue the enterprise with both his considerable skill and a frisson of fame, but is this not as it should be? Nothing more need be said. You don't get an award for showing up.
Some of the food at Gato is great. The "charred beef" ($35) in particular—a de-fatted, de-muscled New York Strip seared for maximum crust then sliced thick, broiled with butter and blue cheese on top—takes something great and makes it greater. Never have I ever seen a steak move so quickly from crust to silk-like interior. Butter and blood run together on the plate, mordant, beautiful and delicious.
It also turns out that the squid and bacon feint he made on the bar menu is fully realized in an errday brilliant charred octopus. One giant charred tentacle curled like a question mark—How can I be so good? it asks—bearing a strange tangerine sauce that shouldn't work as well as it does. It's an octopus' garden Ringo would love.
Happily at Gato, Mr. Flay's aggression, so risible on television and in public, is often transmuted into something much more pleasing. Thus it is with one of the most bracing inventive dishes on the menu, the squid-ink fettuccine ($34). The pasta arrives like a tangle of cassette tape under two shockingly red Carabineros shrimp. Normally when you order a squid ink pasta, the ink is sublimated into the dough, its brininess slight. But that just wouldn't do for a man of as intense passions as Mr. Flay. No, he makes the ink sauce separately, adding in mussel stock to round out the flavor, and then he cooks the pasta in it. The result is, like Mr. Flay's television persona, intense and confrontational. It's an acquired taste but once acquired, you won't soon want to let go.