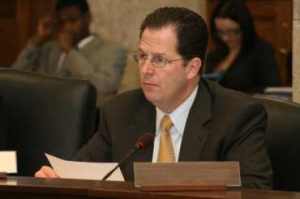 TRENTON – State Sen. Brian P. Stack (D-33) complimented Department of Community Affairs Commissioner Richard Constable today during his opening statement on the Senate Budget Committee, suggesting a political future for Constable.
"With all you've been through you'll be well poised to run for public office in the future," Stack told the commissioner.
Constable laughed in response.
The commisisoner told senators that his department has not distributed $20 million – on top of an already reported $9.2 million – out of $4 billion in state transitional aid in the current fiscal year.