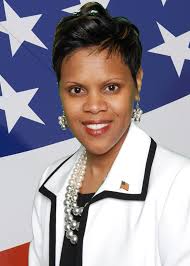 PATERSON – This was agony.
Assemblywoman Shavonda Sumter (D-35) had to choose between two men she loves: her godfather and leader of the party; and the man whose campaign for mayor she ran four years ago as a labor of love.
But even as Sumter tried to will herself out of it and remain true to her original declaration of neutrality in the name of a father and a brother, today she chose the father.
Passaic County Democratic Committee Chairman John Currie wants Sumter to back Council President Andre Sayegh for mayor, not incumbent Jeff Jones.
So Sumter will back Sayegh for mayor, she told PolitickerNJ.
Sumter's absebce from a campaign event at City Hall earlier today sparked anger among some operatives who decided that she had crumpled under the pressure.
But while acknowledging the pain of her decision, Sumter was adamant in her choice.
"I love both men – my chairman as well as Jeff Jones the man – they both know my feelings," said the assemblywoman. "I support my chairman with no hesitation, though Jeff will always remain my brother.
"Unfortunately I can't keep my word [to stay neutral in the mayor's race, her original intention] – that's the hardest part of this," she added. "It's definitely a fear of going backwards with Joey Torres that motivates me. That's why I got in this in the first place. I've worked hard on the political front."
Her city suffers, she said.
Two murders last night.
A chasm of ethnic division.
"I had a conversation with the mayor," Sumter said.  "He knows."
She plans to fully back Sayegh, PolitickerNJ asked for clarification.
"Yes," she said.