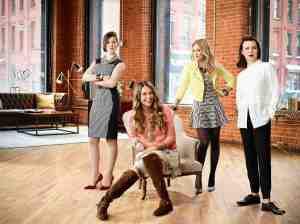 We would like to say we are dying to watch Younger, the new TV Land series helmed by Sex and the City's Darren Star. After all, we're big fans of its cast–of which the show's pick-up was contingent–including the Tony Award-winning Sutton Foster and Teen Choice Award-winning Hilary Duff, as well as Miriam Shor from Hedwig and the Angry Inch and Debi Mazar.

Based on the novel by Montclair author Pamela Redmond Satran, Younger is about a 40-year-old woman (Foster) who passes herself as 26, not because she's trying to meet guys, but because she needs a job. She ends up as an assistant to Ms. Shor and befriends Duff, all with the help of Ms. Mazar. And they accomplish all that without bursting into song periodically, which seems to me like an egregious waste of talent.
Like, and here's an idea, I'm no TV exec or anything, but WHAT IF:
Sutton and Duff sing a haunting duet about how much it sucks to get coffee for your boss, to the tune of Flight?
[youtube http://www.youtube.com/watch?v=s0DCoy1MrpM&w=420&h=315]
And then maybe Ms. Shor can rock out to a head-banging anthem of what a badass boss she is a male-dominated workforce?
[youtube http://www.youtube.com/watch?v=L6_ye20RMOE&w=420&h=315]
Look, just a thought. Anyway, good job everyone! This show looks great!