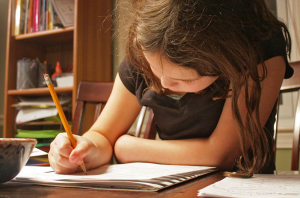 Here's a frightening thought regarding the future of humankind: according to The Telegraph, children born in the digital age are so addicted to technology, they're forgoing playing with blocks, pens and paper.
Members of the UK's Association of Teachers and Lecturers are warning that the addiction is leaving children as young as three with no dexterity in their fingers but the ability to swipe a touch screen with ease.
The addiction has caused inadequate motor skills in infants, and in older children, it has caused issues with their abilities to complete traditional pen and paper exams, according to the ATL.
In addition to keeping students up all night and ruining their attention spans for the next day's lessons, their reliance on instant information from their computers and tablets is making many students unable to apply what they learn from their textbooks.
"I have spoken to a number of nursery teachers who have concerns over the increasing numbers of young pupils who can swipe a screen but have little or no manipulative skills to play with building blocks or the like, or the pupils who cannot socialize with other pupils but whose parents talk proudly of their ability to use a tablet or smartphone," Colin Kinney, a teacher from Northern Ireland, said at the ATL annual conference in Manchester.
The problem is apparently so bad that children are requiring "therapy for compulsive behavior after being exposed to the Internet and digital devices from birth." Cool!
The ATL is urging parents to limit children's time with digital devices, even if that means turning off the wifi at night.
That won't go over well.