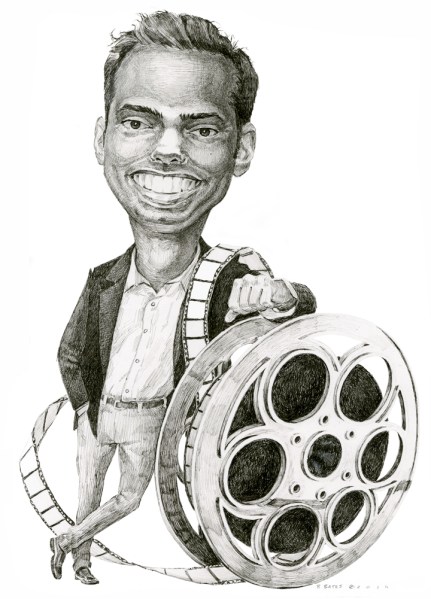 In 2007, Rajendra Roy became chief curator of film and media at the Museum of Modern Art, the nation's preeminent museum film department. He arrived not only at a young age (34) but without a graduate degree in art or film and has since gone on to organize a number of highly successful shows, including a 2011 retrospective of Tim Burton's films, which set attendance records at MoMA.
What do you see out your office window? I see the Rockefeller townhouses and the University Club: the bastions of the establishment, present, past and future.
Downstairs in the galleries, do you have a touchstone artwork that you return to when you want to meditate? Picasso's Les Demoiselles d' Avignon: It literally makes me feel tiny. It's important to be grounded in a city like New York, where there are the most interesting people in the world, the most money, the most innovative art, and you can let it go to your head when you have some success in any of those areas. The trick is to not fool yourself; that's when people mess up, when they feel like they've arrived. Being at MoMA, I see that the truly great works were not things that marked the end of something but the arrival of something new: the arrival of minimalism, of pop, of sound in film, of narrative storytelling or the abandonment of everything in new cinema and letting go of what's expected.
You have mad diplomacy skills. Where do they come from? I was supposed to be a lawyer, and I studied political science, so, essentially I earned a degree in bullshit placement. It's a skill set that comes in handy. Not lying or misleading, but diplomacy is important in getting what you need done, done. Imperiousness is a completely outmoded way of operating (alas!). The "goddammit, don't you know who I am?" era is long gone.
In January, you left Sundance early to jet to Washington with your sister, the designer Rachel Roy, for Michelle Obama's 50th birthday party. Spill. The first thing that happened to me was that I recognized my sister and I are both in our 40s and are now truly friends. Rachel asked me to go with her. So on a hyperpersonal level, it was awesome. And then there was the thrill of discovering the humanity in these very public people, to see that the Obamas allow themselves to be actual human beings on certain occasions. It made me extremely happy to be alive right now. And then there was dancing in a long Soul Train disco line with the president. And recognizing that I'm still the nerdy skinny guy who's going to go up there and dance like a freak and embarrass my sister. Fortunately, I wasn't the only "skinny guy with a funny name" dancing like a freak.