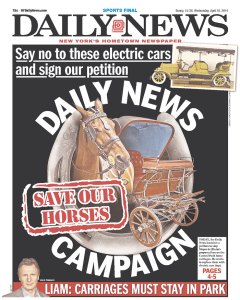 Remember when The Daily News decided that simply writing an editorial and covering the horse carriage debate wasn't enough to save the carriage horses from getting replaced by new, made-to-look-old electric cars?
Back in mid-April, the tabloid broke the news of its campaign to keep the carriage horses in the city. Why, there was even a graphic!
Since then, the News has relentlessly covered the carriage horse debate while actively crusading for the rights of tourists to pay large sums of money to ride around Central Park while trying to pretend that the horse pulling their cart is not relieving itself.
The News has taken the issue and made it into a personal crusade. There was an open letter to the mayor, written by a horse named Roger, and a profile of a former workhorse from Pennsylvania named Pepper who is now "fat and happy" in the big city. A veterinarian investigated the horse's living conditions and found that they have more space than most New Yorkers. The News even sent a reporter to Pennsylvania to report on the nice Amish family that trains the happy horses. And that's just a few of the many stories the tabloid has run as part of the campaign.
Of course, the campaign has not been without criticism. According toThe Village Voice some ethical complaints arose as a result of the blurred line between the News's editorial and news coverage.
But that hasn't derailed the News in its quest to save the horses of Central Park.
Accompanying all this coverage is a petition readers can submit online via a Google form or by cutting out and mailing it in:
Ken Frydman, a Daily News spokesperson, told the Observer that the petition got "25,000 signatures and counting" as of this past Monday (the News reported over 8,000 signatures back when the campaign launched). The petition requires that readers include a name and home address. Email and comments are optional.
The Daily News is not the only publication to take an editorial stance against what the publication has called carriage-gate. In fact, it's the first time that the editorial pages of the New York Post, The Daily News and The New York Times have been in agreement about anything since they all endorsed Christine Quinn for mayor.
But the tall candidate from Brooklyn won, and he is after the horses.