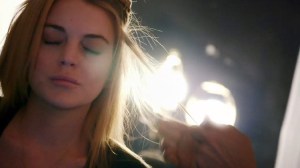 It turns out, things could get worse for both Lindsay Lohan and her mentor/enabler Oprah, as we saw on last night's finale of OWN's terribly-rated, viciously-panned docu-series, Lindsay.
As we found out approximately 10 hours ago, in what appeared to be an hour-long coda to a wince-inducing protracted portrayal of a woman on the verge (of her N-th rehab stint), Ms. Lohan admitted to having a miscarriage during the filming of the program. This was teased out before the two-part, two hour finale last night, and apparently caught more than one person by surprise.



Even if director Amy Rice hadn't planned for this last-minute revelation when she began releasing episodes of Lindsay out into the world, the last-ditch opportunism of throwing it in casts an even worse pallor over the entire enterprise, and by extension, Oprah herself. Who knew that Lindsay was going to be her Achilles' Heel? I would be surprised if OWN didn't close up shop after this horrific debacle, which wasn't even good as a narrative story. In fact, the whole timeline of Lindsay seems a bit murky: they were filming the last portion of the series while the first episodes were airing, allowing a sort of infinite mirroring. Lindsay saw Lindsay, then reacted negatively to it, and that happened approximately a month ago. That's the reason she didn't get out of bed for what constituted the majority of the show, because she was miscarrying a baby from unknown origins. And despite the fact that nothing Lindsay Lohan has ever done has been kept a secret for more than ten minutes, this story never leaked.
Here is what happened on Lindsay, as best as I could reconstruct it: she missed some meetings, relapsed, came to terms with her mother's book deal, got yelled at by Oprah, was late to several photo shoots, went to Art Basel, was late to film with Billy Eichner, got her own book deal (maybe?) and had a miscarriage.
Ms. Rice basically ends the show on that note, almost as if to say "We were as surprised as you were!" But they weren't. They saw the footage and they edited it. Then they decided to put us as viewers in the uncomfortable of suspecting that Ms. Lohan, who seemed to come up with a different pity-sickness every week (as addicts often do), would indeed not be above using a failed pregnancy to excuse her terrible behavior on the program. (Not to mention eliciting sympathy about that bang list that came out during Lindsay's airing.) Or perhaps even manufacturing a fake one. I can't tell which one of these is the darker scenario, but I know that having these thoughts even in my head on a Monday morning makes me feel unclean. No one wants to sit down and watch a TV show that makes them feel like complicit monsters for expecting the worst from their protagonists. Not even The Wire.
While we may consume celebrity tabloid gossip that churns out people like Lindsay and Amanda Bynes, it turns out we need that layer of paparazzi between us and the subjects of our ridicule. Rubber-necking in real time leaves us far more shaken, and in a deep, profound way that may have made Lindsay the most epic failure of programming in the 21st century thus far. Though I say that without ever having seen Sweetie Pie's.