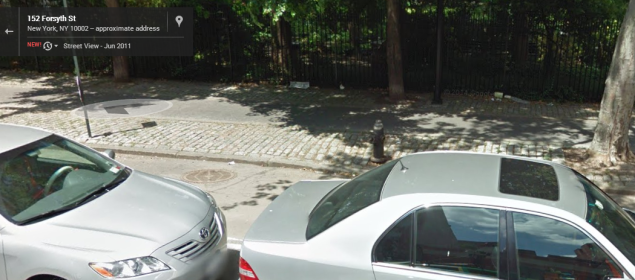 You see that fire hydrant up there? It looks normal, doesn't it? Well it's actually the most vile, cash-sucking hydrant in all of New York.
Using NYC Open Data, the blog I Quant NY did a little digging into which New York hydrants garner the most tickets. That bad boy opposite 152 Forsyth Street took the top spot. Between Aug. 1, 2013 and March 26, 2014, that hydrant has racked up 187 tickets. This adds up to $21,505 in fines, or a whopping $33,118 annually.
Let's put this in perspective for all the non-hydrant, human workers on minimum wage. If that hydrant was working a 40 hour work week it would be making $15 an hour. Not a bad gig.
One theory as to why this particular hydrant is the bane of a casual car-parker's existence is that tricky bike lane in between the hydrant and the parking spot. Confusingly, I Quant reports that, with a marked parking space and a sign authorizing parking, this is allowed. 
Apparently, this is all lies. The Forsyth hydrant has both of these things.
What Forsyth Street also has is, wouldn't ya believe it, the second highest ticketed hydrant in the city.Across from 104 Forsyth lies this bastard, which netted 139 tickets for an annual sum of $24,617.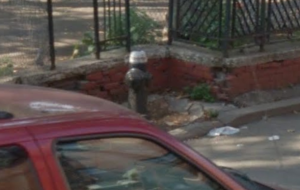 So, moral of the story for today, stay the hell away from Forsyth unless you have endless money to blow on parking tickets. Don't say we never did anything for you.
UPDATE: The Department of Transportation told us the "bike lane" by 152 Forsyth is not a bike lane at all.
"Please note that this painted area is not a bike lane. It is a curb extension installed in 2008 to provide a continuous safe space for pedestrians along the east side of Sara D. Roosevelt Park, which previously lacked sidewalks along portions of its seven blocks between Canal St. and Houston St…While DOT has not received any complaints about this location, we will review the roadway markings and make any appropriate alterations."