Fabulous! That's a once-respectable word that has been sadly relegated, through exhaustion and misuse, to the gallows of the lexicon. It's so insincere now that you don't hear it much anymore beyond the floor shows of Vegas, but if the shoe fits…
For Audra McDonald, who is channeling a fitful night in the life and music of the famously tortured Billie Holiday in Lady Day at Emerson's Bar and Grill on Broadway, the shoe fits better than a proverbial glove. It's not only a consummate performance of skill and craft that borders on the supernatural; it's the performance of the year. I admit I was skeptical. While I've seen the amazing soprano miscast (110 in the Shade) and wasted (in an unbilled "guest" shot as the demented bag woman in the recent concert version of Sweeney Todd at Lincoln Center), I have never seen or heard her give less than 100 percent onstage. She doesn't look like Lady Day (too curvy and much too healthy to be a heroin-addicted drunk), and she certainly doesn't sound like one of the most uniquely swinging voices in the history of jazz. But she's done her research like an architect digging up a pharaoh's tomb, lowered her keys and poured herself into a skintight white gown with a trademark gardenia in her hair, acting out the booze and smack, the voice wobbly in the vowels, then stretching out the long notes on the end of phrases until the transformation is astounding. She leaves you shaking.
It's when she stops singing and starts talking in a gauzy haze about the New York drug busts that landed her in prison and prevented her from working in New York clubs that the show stumbles. The scene is a midnight in 1959, the setting a seedy joint in Philly, and the star is at the end of her rope—four months before she died of cirrhosis and heart failure and God only knows what else, brought on by years of self-abuse. These were the days when the quality of her beat-up voice had its most special appeal for me. And Ms. McDonald captures every heartbeat of the music on such legendary treasures as "Strange Fruit," "God Bless the Child" and "Don't Explain." Between songs—and sometimes in the middle, too—she sketches in some details, stopping and starting when her moods shift. Be forewarned: it's not a great play Lanie Robertson has written, and Lonny Price's direction seems merely perfunctory. The Circle in the Square has been transformed into a cabaret for the occasion. Drinks are served to ringsiders. But as the evening mist moves in, you share an experience you will never forget.
If you've read much about Lady Day or seen the movie melodrama Lady Sings the Blues with Diana Ross, you won't discover anything you didn't know going in. She talks about her need for love, children, a home, the normal things in life that never happened—but Billie was never normal. A 200-pound child who learned to sing listening to Louis Armstrong and Bessie Smith records while scrubbing floors in a Baltimore cathouse, she was doomed from the start. She touches on the racial humiliations she endured while traveling on a bus with Artie Shaw's all-white band and the pain that led to heroin and alcoholism. If only the writer had added a few more minutes for Lady to reflect on the impact of what she actually learned from the sordid details of her life. Then you'd have a real play instead of a pile of clichés. But you won't have much time to worry about what is missing. You'll be too busy being electrified. Like the lyrics in the haunting "Deep Song" she sings at the end, "the blues crawled through the door and licked her heart once more." Audra McDonald lives and sings it all, conjuring the need for adjectives like mesmerizing, captivating, galvanizing…
And, yes, fabulous!
SOMETIMES IT'S O.K. TO GO TO THE THEATER and just let go, have a good time, and stop worrying if there's something you don't understand in the latest pretentious import from London that nobody gets except Ben Brantley. That's exactly what awaits you at Susan Stroman's dazzling Broadway musical version of Woody Allen's 1994 Jazz Age movie Bullets Over Broadway. If you don't love the pure, passionate entertainment value of this bauble of Roaring '20s madness and mayhem, you need to have your marbles counted.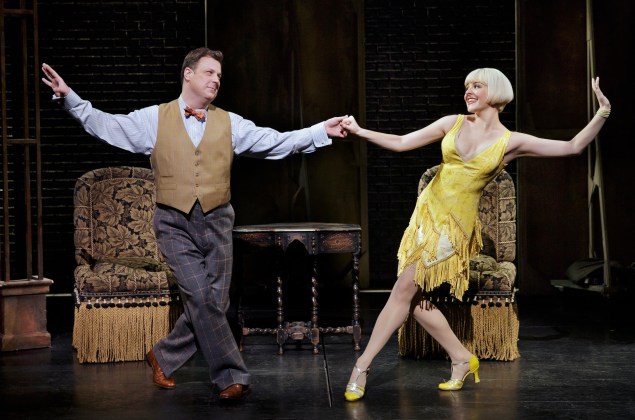 From the mug with the machine gun who swaggers onstage before the curtain and blows the title into the scrim in electric lights to the best gum-chewing chorus line since Miss Adelaide and her Hot Box Girls in Guys and Dolls, it's pure fudge, and only an old crank with irritable bowel syndrome could go home grousing. This is the one about the struggling Greenwich Village playwright (a wonderful Zach Braff doing a solid riff on Woody) who sells out fast when his first Broadway show is financed by gangsters. It's a Prohibition farce about mobsters and molls, theatrical divas and hilarious Times Square buffoons that mixes the hammy theatrics of overwrought thespians ready to die for their art with the antics of rats and hoods who don't mind killing them for it. The theater makes strange bedfellows, which an intense, dedicated and neurotically insecure young writer named David Shayne (Mr. Braff) discovers to his horror when it becomes clear that the backing for his new play is coming from a grizzled mobster named Nick (Vincent Pastore) on the condition that it must star his brainless girlfriend, Olive (an outstanding Helene Yorke, the funniest honk-voiced blonde tomato since Jean Hagen in Singin' in the Rain). After eight months at Nick's speakeasy and still in the chorus line of flappers called The Atta-Girls, her only experience at acting is playing Lady Macbeth in Jersey in pasties, but she's soon wrecking David's play while her bodyguard, a goon named Cheech (marvelously sung and danced by a scene-stealing Nick Cordero), is rewriting the dialogue. 
To make things worse (and drop-dead funnier), the cast includes a vampish, over-the-hill dipsomaniac who drinks paint remover with a twist and thinks she's Tallulah Bankhead and Kit Cornell rolled into the body of Hedy Lamarr (deliciously played with all bases loaded by Marin Mazzie). There's also an overweight leading man (Brooks Ashmanskas), who turns from a paunchy matinee idol into Fatty Arbuckle before anybody gets close to an opening night. There's nothing anyone can do to replace the talentless Olive without ending up in the Hudson River, but as her bodyguard gets bitten by the smell of greasepaint himself, hearing his lines mutilated, he's not beyond a St. Valentine's Day massacre of his own to preserve his sacred dialogue for the archives. And before it's over the surprises fly like Uzi fire. ("You killed Olive!" "You've seen her acting—it was a mercy killing!") To everyone's shock, Cheech's rewrites turn the play from tedious, tepid and intellectual to a hot and horny hit. It's corny, but for once the corn is ripe and ready for picking.
Eschewing a new score, which nobody knows how to write anymore anyway, Woody Allen and director-choreographer Stroman have amassed a file of period standards ("I'm Sitting on Top of the World," "Runnin' Wild," "Up a Lazy River," and Cole Porter's "Let's Misbehave," to name but a few), and Ms. Stroman has staged the whole thing like a spoof of Mickey Spillane, replete with dancing hot dogs and a stage full of robust, tap-dancing mobsters bringing the golden oldie "Tain't Nobody's Bizness if I Do" to a standing ovation. Santo Loquasto's revolving stage—showing points of view from backstage, onstage and the audience—joins his speakeasies and gold-digger penthouses with a visual flair that exudes an homage to old New York the way Damon Runyon envisioned it. The deeper points Woody Allen makes about fame, compromise and success are worth perusal, but the critics who always knock themselves cockeyed searching for hidden meanings in his work are really grasping for straws when they compare Bullets Over Broadway to Chekhov. Sharp, energetic, colorful and stylish, this is an intelligent, high-stomping romp and nothing more, but it pays off in spades and you'd be crazy to miss it.