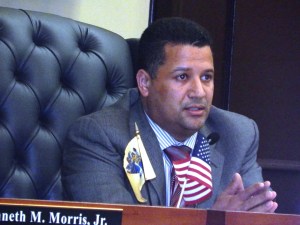 PATERSON – In public, At-Large Councilman Rigo Rodriguez shows no sign of being rattled by the fact that he's under indictment, and, with a kind of Bill Musto gusto, runs his mayoral campaign as if he expects to win, as if he knows that in the end, the people will serve as his jury.
As the council approached the midnight hour Tuesday night, he turned the heads of colleagues who noticed him animatedly communicating with campaign personnel. Someone only half jokingly asked him if he intended to go pound on doors after the meeting.
Rodriguez proved the most consistently keyed in voluble presence on the dais Tuesday, seizing on citizens' complaints and repeatedly criticizing the Jones administration for failing to act on certain council recommendations.
"That's not cutting it," rebuked the councilman, angling a stern look at a mayor's representative on the issue of street maintenance.
"I saw a bus hit a pothole so hard," Rodriguez added, "a kid's head hit the window."
He was just getting started.
"Let me take a breath," Rodriguez said. "You tell this administration to get on this. This is a public safety issue."
And it went on like that, all night, after Clerk Jane Warren-Williams beckoned a solemnly advancing Rodriguez to lead the chamber in a flag salute.
Plagued by his and his wife's federal indictment on charges of mail-in ballot fraud in the 2010 Paterson city council election and tampering with witnesses in connection with a subsequent investigation by the State Police and the Division of Criminal Justice, Rodriguez won't win the May 13th mayoral election, according to most Silk City insiders.
But insiders can't help entertain questions about his capacity – based on a ubiquitous campaign, seeming unruffled commitment, and his built-in citywide reach as a veteran at-large representative of the city's largest growing population with a boost of 12,095 Dominican residents from 2000 to 2010, a bigger increase of Dominicans than any other municipality in the state – to play havoc with the election's outcome.
Specifically, people wonder if Rodriguez – leader of the last decade's second largest growing Hispanic community in New Jersey after Mexicans – will fulfill the 2010 spoiler role of Andre Sayegh, whose vote totals in that contest raked into the base of then-Mayor Jose "Joey" Torres and helped elect Jeff Jones.
Can Rodriguez cut into Torres' base and boost either Jones or Sayegh – who this year is running with the benefit of the political infrastructure of the Democratic Party?
The answer: unlikely, but not outrageous.
Sources say Torres is alert to Rodriguez. The former mayor respects the councilman's retail skills and knows Rigo loyalists are motivated by what they believe is their leader's last stand as he retires from the city council this year and wrangles with the election fraud indictment.
Torres specifically wants to corral Peruvian American voters to enhance his Puerto Rican base and to that end tapped former Saddle Brook Councilman Omar Rodriguez, a Peruvian American, to serve as his most visible campaign consultant.
Three-thousand Peruvians settled in Paterson between 2000 and 2010, a greater growth concentration than anywhere else in New Jersey, according to the New Jersey Department of Labor and Workforce Development.
The former mayor spearheaded the aggressive Peruvian play not only to blunt Rodriguez and his Dominican base but to undercut Sayegh, who spent at least four years nurturing the city's growing Peruvian community.
Eight years ago, Omar Rodriguez worked to get Rigo Rodriguez elected, and now he's with Torres.
A source told PolitickerNJ that Rigo Rodriguez is also inhibited somewhat by the presence in the race of fellow Dominican American Maria Teresa Feliciano, a retired public administrator from the criminal division of the Judiciary.
She similarly has impressed people with her work rate and dedication, running a book-smart campaign in contrast to the councilman's grassroots animal approach, infuriating Rodriguez supporters and sparking a low-grade Dominican civil war.
"Maria Teresa Feliciano and Rigo cannibalize each other and that helps Joey," said the source, who's unaffiliated.
Not only saddled with the intricacies of his own case and the stress to himself and his wife, Rodriguez now faces the stark organizing challenge of trying to mobilize many foreign born residents under obvious, heightened scrutiny.
The state indicted Rodriguez, his wife and 11 allies for submitting mail-in ballots on behalf of voters who never received their ballots during the citywide election four years ago.
Armed with his message that the authorities, including the auspices of county political power in Passaic now aligned behind his rival Sayegh, unjustly targeted him, unable him to talk in any detail about his case, Rodriguez, the dogged local pol, finds himself fighting back with the very instrument that undid him last time: an election.