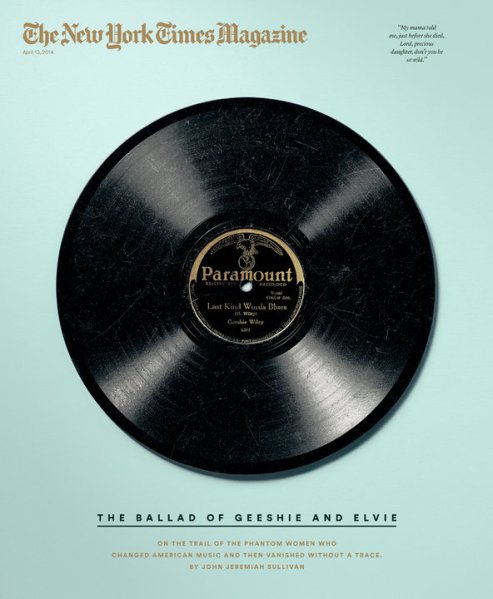 John Jeremiah Sullivan's groundbreaking New York Times Magazine cover story, published this weekend, goes deep on the never-before-known backgrounds of blues singers Geeshie Wiley and Elvie Thomas, two of the most enigmatic musicians in American music.
But the 14,000-word piece relies heavily on an interview transcript acquired via "quasi theft" (as Mr. Sullivan puts it) from Robert McCormick, the brilliant yet tortured blues historian in his mid-80s whose enormous private home archive of photos, recordings and copious notes—he calls it the Monster—has tantalized blues aficionados for decades.
"You're not allowed to sit on these things for half a century, not when the culture has decided they matter," Mr. Sullivan reasons in the article. "I know he didn't want to sit on them—he was trapped with them. I give us both a pass."
A handful of journalists, however, took issue with Mr. Sullivan's rationale. "Yes, the new John Jer. Sullivan @NYTmag story is amazing," Michael Hall, a senior editor for Texas Monthly, wrote on Twitter, "but there's nothing 'quasi' (his word) abt the theft that led to its amazingness."
Alex Heard, Outside magazine's editorial director, echoed that sentiment. "In his blues story, John Jeremiah Sullivan pretty blithely justifies stealing research material from Robert McCormick, via Caitlin …" he wrote, referring to the student who provided Mr. Sullivan with the transcript, which she found and photographed in Mr. McCormick's home while working as a research assistant.
In a telephone conversation earlier today, Mr. Sullivan spoke candidly about the ethical blurriness of the issue. "I won't try to make it sound like I didn't struggle with it," he told the Observer. "It's not the kind of thing you want to do with every story."
Mr. Sullivan said he has not heard from Mr. McCormick, who has ceased communication with the author. But he thinks he's legally in the clear. "You can't own somebody else's speech," Mr. Sullivan explained. "It's actually her [L.V. Thomas's] speech in the transcripts and not his writing." (L.V. Thomas was "Elvie" Thomas's real name.)
He noted, too, that the transcript exists outside of Mr. McCormick's archive, a fact that was cut from the first draft of his article, which, he said, ran at about 35,000 words.
In order to confirm the authenticity of the transcript from Mr. McCormick's home archive, Mr. Sullivan matched it with a manuscript assembled in the 1960s by Mr. McCormick and the English blues historian Paul Oliver. It is presently being winnowed down by the blues scholar Alan Govenar.
Should it ever be published, Mr. Sullivan said he hopes to write a piece on the book itself, a comprehensive history of Texas blues music and a highly anticipated tome in the field of blues scholarship. He referred to the L.V. Thomas transcript in it as an "eyelash" in the vast assemblage of information that Mr. Govenar is sifting through—which is probably why it went unnoticed for so long.
UPDATE: Robert McCormick's daughter, Susannah, has responded to Mr. Sullivan's remarks. Read the full story here.