Brooklyn Heights is pretty much off-limits nowadays to fiction writers and dramatists who are not also HBO auteurs. But the neighborhood's brownstones once housed a veritable brigade of tortured scribes: Carson McCullers, Richard Wright and Paul Bowles all lived on Middagh Street, while Truman Capote and Hart Crane occupied places on Willow. Crane also bedded down on Columbia Heights—as did Thomas Wolfe and John Dos Passos. (It was here that Dos Passos labored with Manhattan Transfer, the novel that gives this column its name—if not its style.) Also resident to various neighborhood addresses was Crucible and Death of a Salesman author Arthur Miller, who died in 2005, and whose local legacy faded a little further this week, as his children Robert Miller and Jane Doyle sold a penthouse apartment they owned at 24 Monroe Place for $2.4 million, according to city records.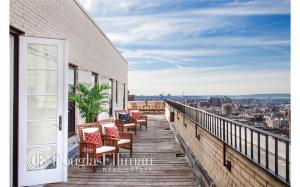 The two-bedroom co-op bespeaks the Heights' current milieu, rather than the grittier climes in which Norman Mailer, young and obscure, sweated over The Naked and the Dead. A traditional entry hall opens on a sizable, sunny living room with polished herringbone floors and a wood-burning fireplace. And if you're not getting enough light inside, by all means proceed from the living quarters through a set of mullioned French doors to a wraparound wood-planked terrace. There are panoramic views on offer, taking in both Brooklyn and Manhattan skylines, as well as glimpses of bridge and harbor.
The bedrooms are set off from the unit's dining and entertaining spaces, in a kind of mini-wing that has separate terrace access. The listing, held by Douglas Elliman's Jeffrey Miller—the broker did not immediately return our request for comment, but no relation as far as we can tell—describes an "elegant, extra-large Formal Dining Room… perfect for large parties," which will no-doubt be lovely for the friends and relations of buyer Yan Zhang. But Ms. Zhang may well find herself exhausted by parades of guests, in which case that peaceful sleeping wing will do nicely.
Mr. Miller and Ms. Doyle are the children of the famous playwright and his first wife Mary Miller, who continued to live in Brooklyn Heights for many years after her husband left her in 1956 to marry Marilyn Monroe. According to city records, Ms. Miller bequeathed the apartment at 24 Monroe Place—the address did not evidently stir romantic resentments—to her children, as trustees of the 2001 Miller Revocable Trust, in 2005. The siblings, who sold the place at asking price, no-doubt profited handsomely from their mother's long dedication to the neighborhood, though we are nonetheless sorry to see the Millers depart. (Robert has long lived in Laguna Beach.)
But as their father once said: "When you reach a certain age you can slough off what is unnecessary and concentrate on what is. And why not?"