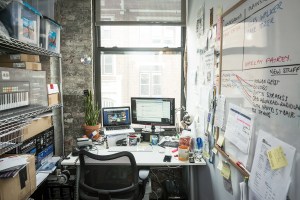 If "The Yard" sounds more like a business selling milled lumber than one renting office space to start-up tech and media outfits, any confusion has caused no apparent harm to the venture by that name co-owned and operated by Richard Beyda and Morris Levy. In 2011, the pair opened the inaugural Yard location in Williamsburg—a 14,000 square-foot facility overlooking McCarren Park, and offering month-to-month rentals for office space to companies of roughly one to eight people.
Supplying workplace standards like a shared receptionist, conference rooms, internet access and printing facilities, the Williamsburg outpost—and one on the Lower East Side that debuted last May—filled up largely with tech and media firms, plus a scattering of more traditional operations including law offices, architects and sneaker importers. Buoyed by the success of those facilities—The Yard has housed more than 700 companies to date—the company announced today the Summer 2014 opening of a third location, in what local businesses are trying very hard to call NoMad, at 234 Fifth Avenue. The Lower East Side location will itself also be expanding, Mr. Beyda told the Observer, with a suite of sun-splashed (but enclosed) rooftop offices and above those, outdoor recreation space, potentially with a bocce court.
"We're always looking for the perfect space," Mr. Beyda said, explaining the selection of the new location. "It's got to have the proper light and air for our members. It's very important to us for a small company to feel like this is their headquarters."
That the proprietors of companies like Uber, Uptime and Wanderfly—to name a few—cannot afford Google-caliber office space does not mean that said proprietors don't want to feel that they, too, are important members of the tech/media zeitgeist. Cool digs help. (Dress for the job you want, and all that.)
As in other Yard locales, tenants at the new outlet can expect to enjoy lounge areas, branded entrances, intra-Yard networking and "selective socializing." A joint venture with the International Fine Arts Consortium, Mr. Beyda said, ensures that "cutting edge, magnificent art" is always on display. And, of course, the "NoMad" location is ideal for fledgling firms setting, or hoping to set meetings with the more established industry figures that have lately taken Flatiron by storm. (Tenants are entitled to book a conference room in any Yard location.)
The Yard began accepting applications for the Fifth Avenue location today and Lower East Side rooftop suites will be available starting May 15th. An "open table" membership—without private office space—runs $395 a month, while a walled parcel suitable for four will cost more like $2,795. On the horizon, Mr. Beyda said, are additional outlets in Gowanus, Downtown Brooklyn and on the Upper West Side.
"New York today is very media and tech heavy," Mr. Beyda confirmed. "And we're seeing a lot of these companies at our locations."
Heavy indeed, sir. If we didn't know any better—and if this were a 1990s science fiction movie—we'd say they were nesting.