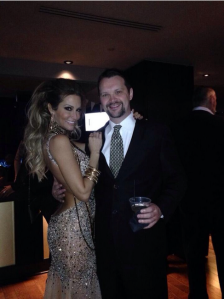 Nate Glass and jessica drake aren't your average guest lecturers at college. Together, they're visiting college campuses in different parts of the country, spreading the word about the harmful effects of pirating porn, beyond just a sore right arm. That's right — they're trying to get broke college kids to start paying for porn.
What's in it for them? Mr. Glass is the creator of Takedown Piracy, an organization that combats the illegal piracy of porn. Ms. drake — who prefers that her name remain in lower case — is a porn performer, and has written and directed porn and sex-ed videos. She's experienced countless instances of piracy firsthand.
Betabeat caught up with Mr. Glass and Ms. drake to find out how, in a world where free adult entertainment is so widely accessible on the Internet, they're planning on accomplishing this seriously daunting task.
The pair spoke at the University of Chicago last month, and will be speaking at the University of Southern California on April 30th.
How did you first get into the porn industry, and when did you become aware of porn piracy?
Mr. Glass: I started in '98 as a clerk at an adult video store when I was 20 years old. I worked my way up the ladder through the retail side, [and eventually moved] to the studio side. I've gotten to know so many of the people involved in the production side. When I saw them being decimated by the effects of piracy, it hit close to home because I knew these people. It didn't seem the problem was really being addressed as well as it could be… I'm a problem solver, so that appealed to my problem solving tendencies.
Ms. drake: I got in at the end of '99, and initially I was just a performer. After being in the industry for a few years, I was contracted to the best company ever, Wicked Pictures. Initially I was a performer and then I became a writer for them, and a director. About three years ago, I created my own line of [instructional sex-ed movies].
jessica, do you remember the first time you experienced piracy firsthand?
Ms. drake: Things changed for me when I saw one of the biggest movies that [I'd made so far], Fallen, [had been pirated]. I found Fallen online on a tube site pretty much right after it was released. And it was such a personal feeling for me all the way back then. I didn't know a lot of about piracy back then, but it felt like theft, like a violation, like I did all of this hard work and for what? People were just passing it around for free.
I'd imagine jessica's perspective would be really valuable.
Ms. drake: I think from a performer standpoint, I come in with a pretty unique perspective because I'm under contract. I get paid by salaried checks. But I've been on sets with other talent who've worked for other companies who have been asked to lower their rates. Companies aren't thriving, and smaller companies are going out of business. It's creating a host of other issues for people.
So how does somebody pirate a porn movie, anyway?
Mr. Glass: A lot of times they'll use a DVD as the source. They'll either get it from just ripping the DVD, or a lot of times you have hackers who use stolen credit cards to access pay sites or member sites – they'll sign up for an account and do a scrape, where they download everything on the entire site. Or you have hackers who don't make an account – they'll just hack into the back end of the website and get it that way… Or you have misguided fans, who think they're doing the studio a favor by downloading it and uploading it to a different place.
Ms. drake: From the fan aspect, I have absolutely had fans come up to me at signings, and I'll [ask if they want] to buy a movie, and they say, "I've never bought one of your movies — I download them all for free online!" My knee jerk reaction is I get very angry, but I try to explain that the best way to support their favorite stars is to buy their products. People say, "I didn't know it was wrong," or, "But isn't that just really great for you [in terms of publicity]?" But you can't monetize that. There is no monetization there. They just don't get that.
How frequently are jessica's movies pirated?
Mr. Glass: The company jessica is associated with, I can pretty much tell you from my experience, every one of their titles is pirated. The pirates don't miss them. As soon as one of her new titles comes out, it's going to be online in a day or so.
How did the two of you meet and decide to work together?
Mr. Glass: Wicked pictures, which jessica directs and performs for, is also a client of mine [at Takedown Piracy]. It was perfect that it kind of worked out, that she was producing films for them, directing, writing, performing in them. When she saw [Fallen] on this tube site, it was a perfect opportunity to work with what I do, in putting a face on who's harmed by piracy.
Ms. drake: Nate comes from a different perspective, I come from a different perspective. We try to make it a very personal thing. It's a fine line — you don't want to shame anybody [and say], "You're doing this wrong, we hate you." I just try to give a more personal viewpoint, make them understand my side of it, because the majority of them are my fans!
You spoke at University of Chicago last month — what was the reception like?
Ms. drake: Pretty positive. They were really interested. But University of Chicago was also the place where one kid came up, and couldn't understand why [the proliferation of pirated videos] was a bad thing.
Mr. Glass: For anybody outside of adult [entertainment], it's such an interesting lifestyle… I sat and watched jessica interact with the kids. They're very curious about how this works. It seemed like they were very receptive to the message we were trying to get across. They had a lot of questions.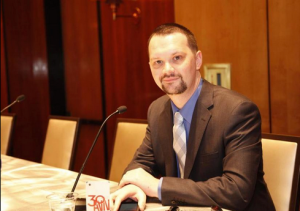 Why market to college students, in particular?
Mr. Glass: Young people will always be interested in sex. But once you become a little older, a little wiser, you've been around long enough to know what exploitation looks like. I think the older crowd is a little more understanding that this isn't right.
With young people, they don't have a lot of disposable income — they have that "don't care" attitude sometimes. When you're watching that stuff on that tube site, often times it's not there with consent. That was something I tried to hammer home at University of Chicago: consent. It's a buzzword for sex positive cultures, about making sure in your relationship you have consent, which I'm all for. But when somebody takes jessica's movie and uploads it to a tube site, that's a violation of her consent.
And do you think these college kids are actually going to pay for porn? 
Mr. Glass: The problem with people resorting to piracy is that some of this stuff is available for eight cents a minute. I don't see how that's such a burden on anyone's budget that they can't pay to watch the movie. We used to joke that people would go to Starbucks and pay $6 for a coffee, but then open up their laptops and complain about paying for porn.
And what about amateur porn — is it okay to watch that for free?
Mr. Glass: A lot of the amateur porn you see on tube sites is also there without consent. You see the same uploader uploading 500 different amateur videos. I doubt they know all 500 couples and got permission… That's a whole other can of worms. I think there are some issues with that, where they might run into some legal problems down the road with record keeping requirements, making sure those people are all of age.
Ms. drake: You have to realize, sometimes amateur porn is not truly amateur porn. It's professionally produced, but it's made to look like amateur porn. So if you're pirating something that looks like amateur porn, you're still stealing, and there's still a lack of consent.