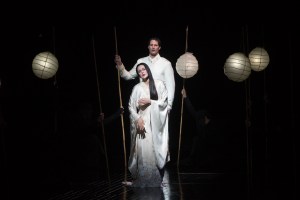 If there is a single production in the Metropolitan Opera's repertory that embodies Peter Gelb's forward-thinking vision, it's Anthony Minghella's Madama Butterfly, which opened Mr. Gelb's first season with the company back in 2006.  This jewel of understated direction and sleekly minimal design ennobles the familiar narrative, elevating the melodramatic story of a Japanese child bride abandoned by her American husband to a poignant tragedy.
In Kristine Opolais, who gave her first Met performance in the title role on Friday night, the company has a Butterfly with the soaring voice and penetrating theatrical presence to meet Minghella's elegant dramaturgy head on.  In fact, she is the most compelling Met Cio-Cio-San since Diana Soviero last sang the role here nearly 20 years ago.
For most opera singers, a performance is a mishmash of singing and acting, one alternating with the other. But Ms. Opolais is what is called a "singing actor": In her performance, vocal and dramatic expression are tightly entwined. At the climax of the longing aria "Un bel di," for example, when the main melody returns fortissimo on the words "per non morire al primo incontro" (so I may not die the first time I see him), the metallic brightness of the soprano's high G-flats and the defiant tautness of her body were all of a piece, an unfiltered expression of desperation.
Even considered narrowly as a vocalist, Ms. Opolais is a fine artist.  In the middle register especially she sings with an easy, instinctive-sounding use of portamento, the gentle gliding between notes that invests Italian music with warmth and intimacy. In a few moments, such as the delicate first act solo "Io seguo il mio destino," the way she caressed the melody brought to mind the young Renata Tebaldi.
The extremes of the voice are more workmanlike, with a less than aggressive approach to chest register and top notes that are powerful but monochromatically bright. The soprano did manage a finely shaded high B in the offstage lullaby in the last act, before unsheathing a sword-like brilliance for the many top notes in the death scene.
That Ms. Opolais returned to the Met barely 12 hours after taking her curtain call for this opera to sing another Puccini heroine, Mimi in La Bohème—for a live HD telecast!—is outside the scope of this review, except that it reinforces an impression she made with her Butterfly.  She is a bold artist, the kind of singer who makes attending the opera a transformative pleasure.
Her presence electrified the entire performance. Dwayne Croft, the veteran baritone who's sung the role of the kindly consul Sharpless more than 50 times at the Met since 1992, was refreshingly free of routine, attentive to detail and vocally crisp.  As the faithful servant Suzuki, Maria Zifchak, another company stalwart, impressed not so much with her no-frills mezzo as her unwavering dramatic presence. I've seen mezzos in this part burst into tears, but Ms. Zifchak's weeping was more moving than most, motivated not by sentimentality but by her character's frustration and anger.
Even smaller roles crackled: tenor Scott Scully's bored, cynical Goro contrasted with the proudly romantic Prince Yamadori from the mellow-voiced bass-baritone Jeongcheol Cha. In the tiny part of Kate Pinkerton, the "real American wife" of Butterfly's beloved, mezzo Edyta Kulczak created a cameo of conflicted gentility as much with her quiet listening as with her handful of sung lines.
As the feckless Navy lieutenant for whom the heroine pines, tenor James Valenti looked like a model for some wholesome all-American product, but his voice just wasn't working. Puccini's ringing high B-flats, signifiers of the character's headstrong glamour, all but vanished behind the vigorous fortissimos conductor Marco Armiliato drew from the lustrous Met orchestra.
That sound was a little tarnished on Thursday night, when Philippe Auguin sent the orchestra scrambling through Richard Strauss's score for Arabella.  This overlong and insubstantial work needs very sensitive handling indeed if it's to make a presentable impression, but this maestro seemed concerned only with getting all the notes out as quickly and as loudly as possible.
This rough treatment cruelly exposed just how second-rate much of the music for Arabella is, mindlessly bustling and cavorting as the cast chatter away in mostly ungrateful vocal lines. What's worse, the libretto is fatally flimsy, the final product of the celebrated collaboration between Strauss and Hugo von Hofmannsthal, left as a draft when the poet unexpectedly died of a heart attack.
Arabella is an odd and distasteful story. In 1860s Vienna, the aristocratic but broke Waldner family is banking everything on a financially advantageous marriage for their daughter Arabella. But she balks at the plan, dreaming of meeting "der Richtige," Mr. Right. Such a man comes along: the wealthy but unworldly landowner Mandryka, and he and Arabella hit it off beautifully. But then comes an ugly, farcical plot twist in which Arabella's sister Zdenka arranges a sexual assignation with one of her sister's suitors. Mandryka overhears the plot and accuses Arabella of promiscuity, and there's a half hour of everybody yelling at everybody else in a hotel lobby before it's all sorted out.
What should redeem all this novelette-level plotting and characterization is Strauss's trademark soaring vocal music for his leading soprano, and indeed the composer provides such a breathtaking moment in the final ten minutes of the show. Unfurling an opulent melody, Arabella slowly descends a staircase in a white silk ball gown to forgive Mandryka. When a soprano of transcendent vocal glamour and personal charm takes the lead in this opera, this aria makes all the yammering worth sitting through.
At the Met, Malin Byström missed this exalted level. Her voluptuous soprano turned a little gritty on the high-lying crests of the final scene, just where you want the fullest, most luxurious bloom. Though she is an exceedingly pretty woman—you can easily believe she would be the most eligible debutante in Vienna—her stage manner was stiff and prim. In the elaborate hoop skirts and stiffly styled wig of Otto Schenk's 1983 production, Ms. Byström looked like a life-sized Barbie doll, and unfortunately acted that way as well.
At the emotional turning point of the opera, Arabella's shock and pain at being denounced, Ms. Byström hardly hinted at the character's devastation, just clutching her pearls and swaying a bit. The only depth of emotion in this scene came from the Mandryka, the debuting bass-baritone Michael Volle.  Even singing Strauss's pointlessly bombastic music and von Hofmannsthal's avalanche of invective, he created a real character, a flawed but basically good man bitter at being deceived.
It's a punishing part vocally, rocketing repeatedly up to high F-sharp and G, and there were moments when it sounded like Mr. Volle was at the edge of what his voice could do. But even under pressure it remained a fine, muscular instrument, and the singer wielded a sharp command of rhythm.  Alone of the cast, he also made something expressive of the text.
Besides Mr. Volle, the casting was, to put it kindly, uneven. Bass-baritone Martin Winkler sounded firm and polished as Count Waldner, and Brian Jagde brandished a big, muscular tenor as Elemer, most attractive of Arabella's beaux. The other female principals were useful only in that they made the lackluster Ms. Byström scintillate by contrast.
A performance like this Arabella makes you wish you could clone Kristine Opolais and send her on in every opera in the repertoire. While we're waiting for that technology to be perfected, though, we've got her Madama Butterfly, which is more than enough to make any season spectacular.