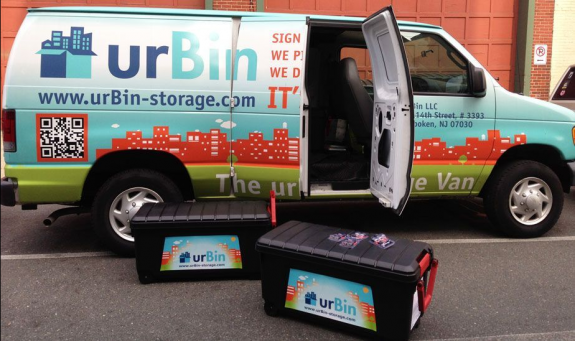 Spring is here, and we can finally pack away our colossal parkas and snow boots. But if you live in a tiny NYC apartment — many of which have nary a closet — it's hard to find a place to store all your winter junk.
Enter urBin, the online service that whisks your stuff away to a storage facility and returns it again whenever you need it, all at the click of a button.
Joshua Ernst, who cofounded urBin with Justen Scheule, said he was inspired to create the company by his own struggles with the limited storage space in NYC apartments.
"I'm actually a native Texan — I'm used to space," Mr. Ernst told Betabeat. "[In New York, apartments are] barely big enough for a person, let alone all of our possessions. When I was new to New York, I tried to rent a storage space and it was one of the most painful experiences of my life – and then I couldn't even get to and from the storage unit."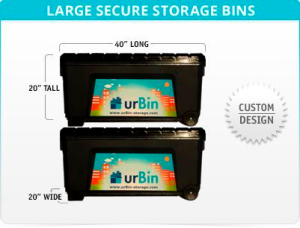 With urBin, users start by selecting a time, up to 24 hours in advance, for a storage bin to be delivered to their home. They can either pack the storage bin as soon as it arrives and have urBin's staff take it away right then and there, or they can schedule a later date for the bin to be picked up. Once they're picked up, the bins are taken to a storage facility in Secaucus, N.J. When a user wants to retrieve their storage bin, they can request to have it returned up to 24 hours in advance, or pay $20 for rush delivery.
"It's like an extension of your own home, like having an extra closet or attic," Mr. Ernst said. "It's convenient and easy, but with just a few less stairs."
Mr. Ernst said that urBin is infinitely more convenient than hauling your stuff to a storage facility in NYC, like Manhattan Mini Storage. To be fair, Manhattan Mini Storage does offer free shuttle rides to their facilities, although they operate on a first-come-first-serve basis, and seem like they might be hard to catch. The urBin process sounds a lot smoother, and, unlike with Manhattan Mini Storage, it doesn't require you to have to go to the storage facility.
It costs $20 per month to rent an urBin storage bin, which measures 20x20x40 inches. Users can also store larger items, like bicycles or furniture, for slightly increased rates — though the company claims urBin users still save an average of $50 per month compared to traditional storage. The service is available to customers in Manhattan, Brooklyn, parts of Queens and the Bronx, and North Jersey.
There are certain items that urBin users are prohibited from packing in their storage bins, including illegal substances and flammable materials. They admit the rules are a little hard to enforce, however, as they don't regularly search customers' bins. ("UrBin will never go into a customer's bins unless there's a reasonable cause for concern (like a seriously foul smell seeping out of the bin or a sound that might lead handlers to believe that there's something alive in the bins)," an urBin spokesperson told Betabeat in an email. "Ultimately responsibility for this falls on the person using the company's services.")
If you really have so much stuff that you need to pay a second monthly rent, urBin definitely seems like the cheapest and easiest-to-use option. The only issue is the fact that if you want one thing from your bin, you'd have to have them bring your entire bin to be back to your apartment, and then take it away again.
Then again, that still beats schlepping out to Secaucus and rooting around in the dark for a sweater, right?