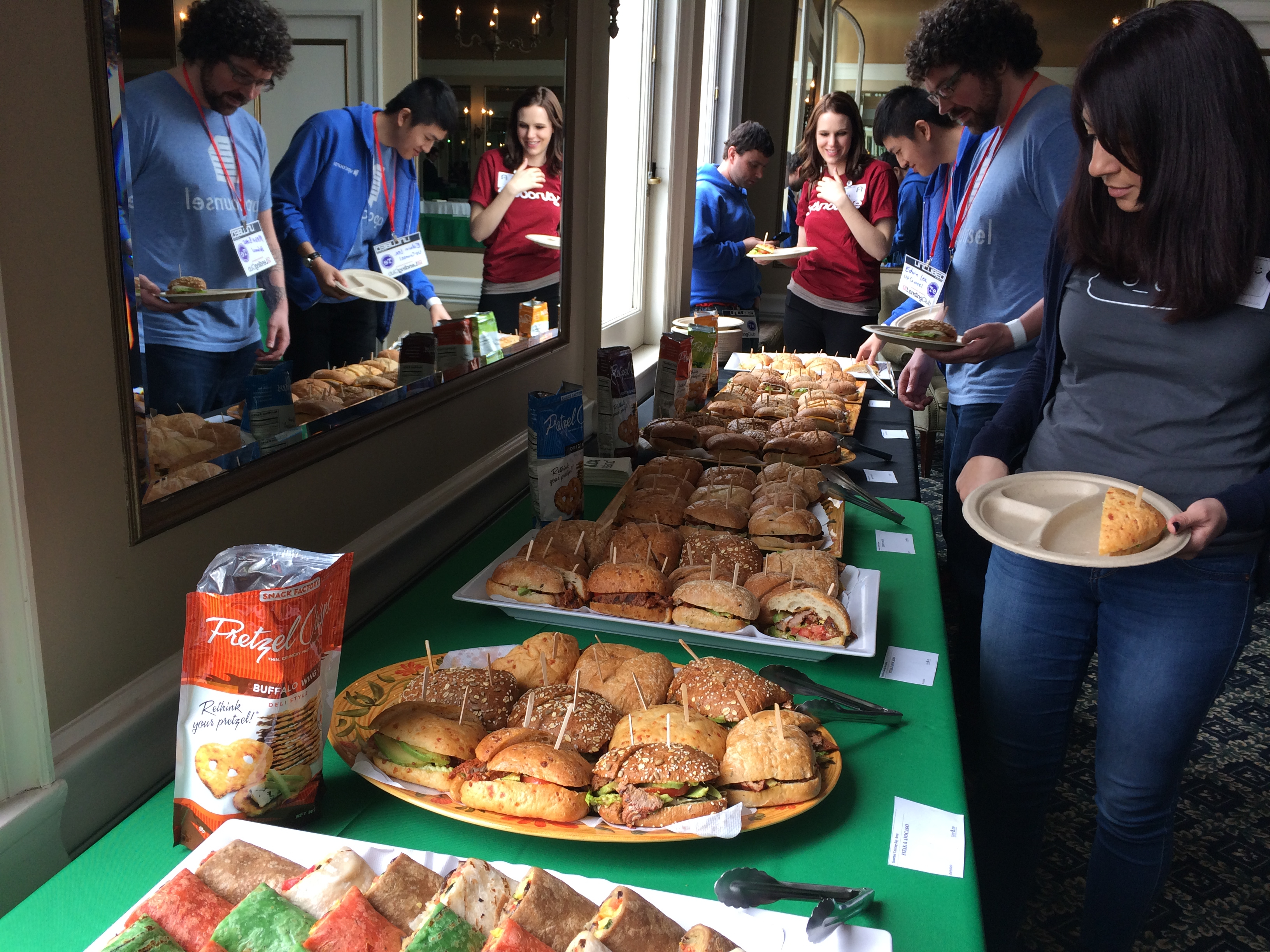 Everybody loves a free lunch, especially when their boss pays for it. Still, sometimes you might wish your employer would switch it up and order something besides 12 pepperoni pizzas, as delish as they may be.
That's where Cater2.me comes in. It's basically a gourmet Seamless for office catering. Employers give Cater2.me an idea of what they'd like to eat and how much they can spend, and the startup handles the rest.
Cofounders Alex Lorton and Zach Yungst met while they were both attending the University of Pennsylvania's Wharton School. They worked in finance in New York City after graduation, but soon tired of that industry. Cater2.me was born from their shared dissatisfaction with workday lunches.
"We were getting meals that were just bland and boring," Mr. Lorton told Betabeat. "It was a lot of turkey sandwiches, mixed green salads. I don't want to complain about a free lunch, but we thought to ourselves, 'Well, if a company's going to be bringing food to the employees and the intention is to bring people together, increase productivity and use it as a way to show the company you care about them, why not make it better food?'"
Mr. Lorton and Mr. Yungst started talking to office managers and chefs, and found that none of them really knew each other — "the system wasn't there," Mr. Lorton said. "It was easier to just go to the deli downstairs rather than going and finding that interesting restaurant that just opened up in the East Village."
So they put together a system to match workplaces with the best eateries in New York City, Boston, Washington, D.C., Chicago and San Francisco. They scour food blogs and restaurant reviews and attend food festivals like Smorgasburg to find the best chefs to match with their clients, and charge clients a nominal fee per employee. Clients can specify how much they'd like to spend — $10 or $15 a head, for example — and Cater2.me will work backward from that.
Some of Mr. Lorton's favorite lunches from Cater2.me include meals from Dos Toros and Calexico, as well as a vendor called Country Boys. Landhaus, a farmer's market staple, is known for its caramelized maple bacon on a stick. "It's incredible," he said. His favorite dish of all in New York, though, is the meatball sub from Lorimer Market.
"I felt very validated because they just won this meatball challenge out in Brooklyn last week," he explained.
Cater2.me works out the logistics so that clients are matched with chefs who can handle their demands. They do the legwork of determining which restaurants are vegan-friendly, which have gluten free options, and which are safe for people with nut allergies. They can fulfill orders for everything from "light and healthy or balanced" to "the most delicious thing you could possibly get," Mr. Lorton said. Guess which category the bacon on a stick falls under.
"Our goal is to make it really easy for companies to create this place where employees can come together," Mr. Lorton said. "We believe there's nothing better than sharing stories over a common table… The workplace has become such an isolated place, where you have your headphones on. We want people in the office to be forced to come together and be forced to come up with good ideas."