"I like a place that looks lived in—magazines and books everywhere, pleasing decay," declares celebrated interior decorator Mario Buatta. "I'm kind of a hoarder. I love to have objects around me."
A champion of clutter, Mr. Buatta has spent his life gleefully rebelling against the aesthetic impulses that led to the fanatically clean house with all-white, modern interiors where he grew up on Staten Island.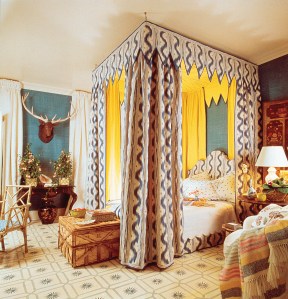 Known as "the prince of chintz" for his devotion to that most cluttered of prints, Mr. Buatta built his 50-plus-year career on English country-style interiors that delight in old-fashioned abundance: cabbage rose-covered couches and canopy beds, paintings hung by sashes and bows, chinoiserie, big vases of flowers, brightly colored walls, bibelots and books. His rooms are vibrant, colorful and specific, a rejection of the tasteful dreariness of gray, white and beige interiors found in so many homes. The aesthetic appeals to both old money and new money that wants to look old—he counts Barbara Walters, Jackie Onassis, Henry Kissinger and Mariah Carey among his clients.
The Observer recently spoke with Mr. Buatta, who last fall celebrated the publication of his first book, Mario Buatta, Fifty Years of American Interior Decoration, a 432-page overview of his work that he playfully dubs the Buattapedia. Alas, he declined to be interviewed in his apartment on East 80th Street. "My apartment looks like a wreck!" he exclaimed, citing clutter and dust that were excessive even for his tastes.
What are the first things you take into consideration when you start decorating a house for a client? You have to create a background for them, a stage for them to play out their lives. It should be a place that will flatter them. You want to make your rooms happy, and it's good to have night colors and day colors. I could never live in an all-white house, because I was born in an all-white house.
What was the house you grew up in like? Very modern. My mother was a neurotic, and she hated dust—I think of dust as a protective coating for my furniture! If you lit a cigarette, she'd start cleaning out the already-clean ashtrays. She would vacuum herself out of the house. My father, who was a musician, would often come home late, and she could tell whether he was there or not by the footprints in the carpet.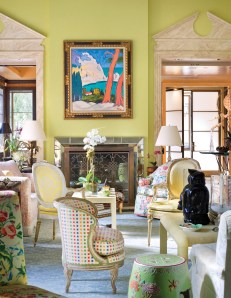 How did you develop such a different aesthetic? My aunt Mary—her house was all English chintz, Duncan Fyfe, Chippendale-style furniture, chinoiserie. By age 11, I had bought my first antique, an English, 18th-century lap desk with a wood inlay and painting on the front. It was $12, and I bought it on the 50-cent-a-week layaway plan. I was not allowed to bring it into the house, because it was secondhand. I had to put it in the garage and spray it for three days. But by the time I moved out, I had my bedroom, the garage and the attic all filled up. I was always a collector.
What do you like to collect? Anything that isn't plain, I love it. I love old wood, painted furniture; I love that old things have a patina. And I have fake plants and flowers everywhere and balls of dust all over the place—it makes me feel at home.
How has interior design changed since you started your career? A lot of the stuff you see in magazines now is too impersonal: too much mirrored furniture, too much beige, too much gray. Older people realize that what they're seeing in magazines is not substantial. There are a lot of what I call decorettes—these kids who are stylists, not really designers. Unfortunately, Parsons doesn't teach 19th-century design anymore. I did the European program there, and it was great.
Has anything changed for the better? There are a lot of places where people can buy good design now: Pottery Barn, Crate & Barrel. You can buy bedside tables from the Ballard catalog for a few hundred dollars that are great looking.
You've said before that you hated the modern furniture that you grew up with. Now that it's basically antique, do you like it any better? No. No! I hate those blue-mirrored tops on the coffee and side tables. That stuff was two for $39 after the war; it was in all the flyers. Now they're $3,000 or $4,000. They're all junk. But everything is expensive now. Desserts cost what main portions used to cost. Chintz is $200 a yard. I had a Nathan's hot dog last night at the train station, and it was $3.50.
Who are your favorite decorators? Billy Baldwin, Nancy Lancaster, Sister Parish. I love George Stacey, though he was a misogynist. He always walked out with a fedora, a brown coat and a cigarette dangling from his mouth. I once said to him, "I love your work. I'm a big fan." And he said, "You would say that." He was a miserable codger, but his rooms were the opposite—vibrant and beautiful.
Are some people easier to work with than others? A lot of people have a flair, love certain things, know things that they want. Elaine Stritch—she was so difficult to work for. She loved to argue and fight. She wanted a yellow room like a friend of hers had—yellow butterfly wallpaper—she wanted it all over the woodwork and everything.
What are the most common errors people make when decorating their homes? Proportion. It's either too large or too small. The smaller the room, the bigger the furniture you should put in it. You put a big canopy in the maid's room, and it looks like a grand bedroom. Also, I always say to see if your sofas are talking to your chairs. To figure out where things should go, look at your furniture after a party, when all your friends have moved it around.
What should one look for when buying or renting a home? Good light is important—and fresh air. I have a little hole in the ceiling of my bedroom. They tried to fix it last year; something is wrong with the flashing above me, I think, but I love it. I get the west air coming through, a real breeze. I'd recommend it.