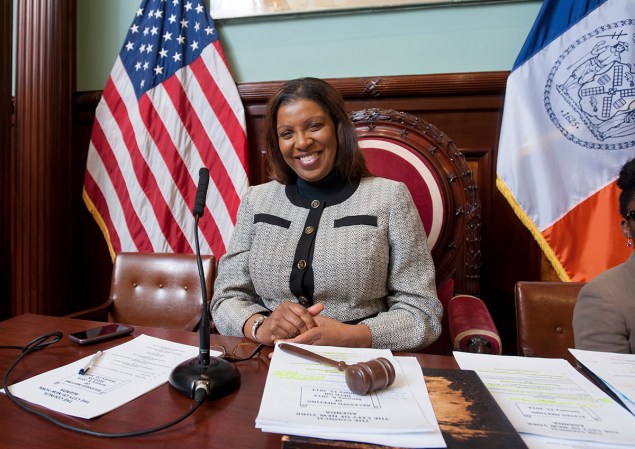 Public Advocate Tish James isn't sure whether Gov. Andrew Cuomo got "the memo" on income inequality and New York politics.
Mayor Bill de Blasio, whose campaign last year was largely based on the promise of fighting income inequality, has had nothing but kind words for Mr. Cuomo after a bruising battle over the state budget. But another citywide official, Ms. James, ripped the governor today for refusing to allow the city to hike its own minimum wage and letting other liberal priorities fall to the wayside.
"It's rather unfortunate that the budget of the state of New York really doesn't reflect the growing income inequality in our city and across our state," Ms. James told the Observer at a rally outside City Hall. "Obviously, the recent election did not persuade them to enact a budget which would raise all boats in the city and across the state of New York, and that includes, but is not limited to, giving local municipalities minimum wage and passing a robust campaign finance law in the City of New York."
"All of these issues and more, the governor unfortunately turned his back on and obviously he didn't receive the memo on income inequality," she added.
Ms. James joins a growing chorus of liberal critics who have assailed Mr. Cuomo for not prioritizing more of their agenda, which also includes public financing of state elections and making undocumented college students eligible for tuition assistance. Mr. Cuomo further angered some on the left when he sidestepped Mr. de Blasio's tax-the-rich proposal to fund universal prekindergarten; Mr. Cuomo successfully pushed to give Mr. de Blasio most of the funds he had asked for, but without the tax.
Mr. Cuomo has responded to criticism by arguing that raising taxes would drive more residents out of New York State and has said the votes did not exist in the State Senate for other liberal priorities that he says he shares. The governor also remains broadly popular, according to the latest public polls.
But Ms. James, who has criticized Mr. Cuomo in the past, clearly feels he's not doing enough.
"It's time that he really engage in more retail politics, visit the boroughs, visit upstate and realize that people are struggling in this city and this state," Ms. James said today. "It's time that we engage in more robust and more progressive legislation."
Mr. Cuomo's office did not immediately respond to a request for comment.