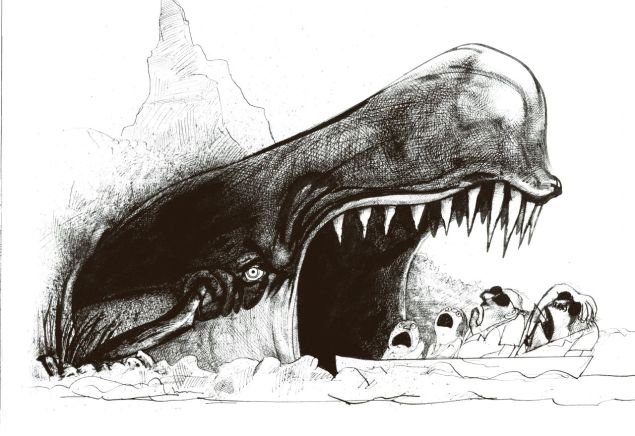 Wednesday, 
April 23
Tonight's keynote conversation kicks off James Baldwin: This Time!, New York Live Arts' five-day celebration of the acclaimed author of Go Tell It on the Mountain and Giovanni's Room, who would have turned 90 this year. Hear choreographer Bill T. Jones discuss Baldwin's impact and legacy with visual artist Carrie Mae Weems, whose work is currently on view at the Guggenheim, and novelist and essayist Jamaica Kincaid (Autobiography of My Mother).
New York Live Arts Theater, 219 West 19th Street, 212-924-0077, 8 p.m., $60
Thursday, 
April 24
How did a show about "nothing" come to dominate the '90s? Hear an expert panel discuss From the Borscht Belt to Seinfeld, The Evolution of Jewish American Comedy. Comedian Larry Storch, Emmy Award-winning sitcom writer Bill Persky, Seinfeld writer Tom Leopold, artist, Observer contributor and author of Old Jewish Comedians Drew Friedman, New York Times Book Review columnist Steven Heller and Yiddish language and theater specialist Edward Portnoy, Ph.D. will explore how "Jewish humor grew out of Yiddish culture," followed by a Q&A.
Society of Illustrators, 128 East 63rd Street, 212-838-2560, 7 p.m., $15/non-member, $10/member, $7/student/senior
Friday, 
April 25
Get a rare look at acclaimed artist Ralph Steadman's paintings and photography at his first New York exhibit in over a decade, celebrating today's release of the documentary about his work, For No Good Reason, narrated by Johnny Depp. Mr. Steadman is best known for working with Hunter S. Thompson, illustrating Fear and Loathing in Las Vegas, among other of the gonzo journalist's works. The first 100 ticket stub holders who see the film at Angelika or Lincoln Center will get in to the premiere party at 8 p.m.
Red Bull Studios, 220 West 18th Street, events@flyingdogbrewery.com, noon-7 p.m., free
Saturday, 
April 26
Culinary lit fest Food Book Fair enters Day 2 with a Food Book Slam, where cookbook authors like Rawia Bishara (Olives, Lemons & Za'atar) and Tom Mylan (The Meat Hook Cookbook) battle it out; Foodieodicals, where you can meet the editors of Chickpea Vegan Quarterly, Lucky Peach, Modern Farmer and more; and discussions on chefs, cookbooks and art and food and race. Finish with a To Kill a Mockingbird-themed dinner at Egg. See foodbookfair.com for schedule.
Wythe Hotel, 80 Wythe Avenue, Brooklyn (except dinner at Egg, 109 North 3rd Street), info@foodbookfair.com, 10:30 a.m.-9 p.m., $50 (admission to three events); $100 weekend pass (admission to seven events); $225 (all-access pass)
Sunday, 
April 27
As National Poetry Month comes to a close, celebrate with Poetry in Motion Springfest. For The Poet Is In, New York State Poet Laureate Marie Howe, Brooklyn Poet Laureate Tina Chang and Bowery Poetry Club founder Bob Holman, will write poems on the spot for attendees. Expect interactive installations, children's writing groups, and call and response to the poems of Walt Whitman, Emily Dickinson, Langston Hughes and Lucille Clifton. It beats reading alone in your room.
Grand Central Terminal, Vanderbilt Hall, 89 East 42nd Street, charif@poetrysociety.org, 11 a.m.-6 p.m., free (same hours April 26)
Monday, 
April 28
Symphony Space's 2014 gala, hosted by BD Wong, celebrates the 50th anniversary of Fiddler on the Roof and honors lyricist Sheldon Harnick with a concert performance featuring songs from the famed musical. Violinist Christian Hebel will perform the role of The Fiddler; additional performers include Kate Baldwin, Christina Bianco, Stephanie J. Block, Len Cariou, Tovah Feldshuh, Joanna Gleason, Clint Holmes, Linda Lavin, Megan McGinnis, Trevor McQueen, Jane Monheit, Christine Pedi, Andrew Rannells, Tori Scott and Leslie Uggams.
Capitale, 130 Bowery, 212-864-1414 x229, 6:30 p.m. (cocktails/silent auction), 7:30 p.m. performance and dinner, $150 (cocktail party and show), $1,000 (VIP ticket)
Tuesday, 
April 29
Where can you find America's (or at least, New York's) next top comic? Venture to Cobble Hill, where Emily Winter, John Payne and Janet Manley serve up free laughs at BackFat Variety, featuring comedians Pete Lee (Last Comic Standing), Elna Baker (The Moth, This American Life), Mike Lawrence (Conan) and Asie Mohtarez (CNN).
61 Local, 61 Bergen Street, Brooklyn, 718-875-1150, 8:30 p.m., free
Wednesday, 
April 30
Wine lovers, use your tax refund to indulge at Tribeca's newly opened Racines, an outpost of the Paris restaurant, which bills itself as New York's "first Parisian neo-bistro." Dine on seasonal dishes prepared by chef Frédéric Duca and what Zagat reports will be a selection of over 800 wines. Reservations encouraged.
Racines NY, 94 Chambers Street, 646-644-6255