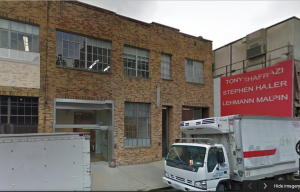 The owner of 540-544 West 26th Street will demolish and develop the two story building currently occupied by three art galleries: Tony Shafrazi Gallery, Lehmann Maupin and Stephen Haller Gallery.
Alan Shmaruk, cofounder and partner at The Manhattes Group LLC, which will codevelop the property with Savanna, was unable to say when demolition will begin, but said the property (which also includes the parking lot next to the building) will become an "130,000-square-foot commercial, office, community facility space."
"The change is rapid," said gallery owner Stephen Haller of the recent development boom in Chelsea. "It's unfortunate that it will not be as it was 12 years ago when I came here or even as it was a few years ago because of the construction going on."
Mr. Haller plans to open a new Chelsea location and is in the process of searching for a suitable space. Gallery owners Rachel Lehmann and David Maupin, who opened their West 26th Street branch in September of 2002 (and later renovated had it renovated by Rem Koolhaas's firm OMA), and Tony Shafrazi were not immediately available for comment.
"Here's the thing with this neighborhood," said Mr. Shmaruk. "I don't know how well you know it, but West Chelsea is one of the hottest neighborhoods in the city."
In case you were curious about the developer's name, the Manhattes Group website offers this explanation: "In May of 1626 the Lenape Indians sold the Island of Manhattes, currently known as Manhattan, to the Dutch West India Corporation for $24. Potentially the greatest real estate deal ever. In the tradition of making historic real estate deals we formed The Manhattes Group LLC."