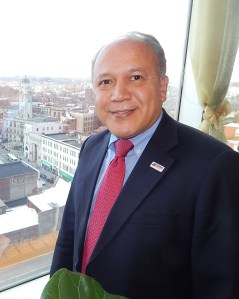 PATERSON – This much is clear.
If former Mayor Jose "Joey" Torres is not the frontrunner in the race for mayor, he's close.
The attacks against him prove it.
In the last three debates, he has engaged in the most mano-a-manos of any candidate: with At-Large Councilman Rigo Rodriguez over the council's role in payroll decisions; with sitting Mayor Jeff Jones over the financial state of the city when Torres left office in 2010; and tonight, at the NAACP debate, with Council President Andre Sayegh over the former mayor's $74,000 severance package.
Sayegh brought up the issue, telling a crowd of Paterson voters that it was inappropriate and wrong for Torres to take the hefty package on his way out of city government four years ago.
Torres promptly rose and strafed Sayegh, objecting to the councilman's votes on city council matters where donors of Sayegh's had a stake.
"There you go again, Joey. Manipulating my record. Just like you manipulated $7400,0 out of the taxpayers," Sayegh shot back.