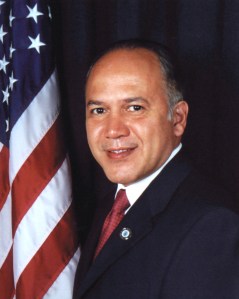 PATERSON – Former Mayor Jose "Joey" Torres said U.S. Rep. Bill Pascrell (D-9) would make a mistake if he jumped in the mayor's race.
Pascrell just officially jumped in, backing Council President Andre Sayegh.
"Today Democratic leaders displayed poor leadership because all of the candidates are Democrats and so basically they disenfranchised seven campaigns, seven groups, from the process with the selection of one," said Torres.
The former mayor's headquarters stands a block from City Hall, and dozens of his supporters took to the courtyard facing the front steps to protest Pascrell's and Assemblyman Benjie Wimberly's (D-35) endorsement.
So did the supporters of the other mayoral campaigns, creating the interesting optical effect of rival camps creating common cause, even as they splinter one another, each in an effort to be mayor.
Torres backers and the backers of Mayor Jeff Jones stood side by side in the jeering crowd.
"I think we were united against the party leaders displaying poor leadership," Torres said. "There is no room for party involvement in a nonpartisan race. You saw people power there today."