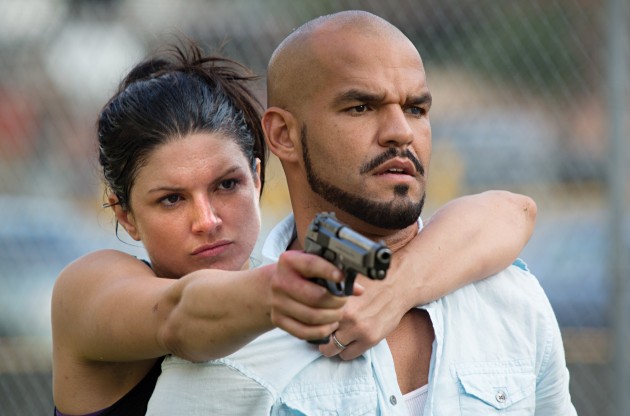 This two-fisted gut buster serves no other purpose than to act as a contrived vehicle for a female Arnold Schwarzenegger named Gina Carano, a real-life combination boxing champion, star athlete and topless cover girl posing in superhero Spandex briefs in the world of mixed martial arts. But who needs championship title fights (she has won seven) when you can stomp the hell out of everyone in sight in B movies designed for Rocky in a bra?
---

In the Blood ★★
(2/5 stars)

Written by: James Robert Johnston and Bennett Yellin
Directed by: John Stockwell
Starring: Gina Carano, Cam Gigandet and Danny Trejo
Running time: 90 min.

---
In the Blood lives up to its title in more ways than one. Ms. Garano plays Ava, whose father is shown in a flashback teaching her how to fight, protect herself, never be a victim, never cry and rely only on herself by slashing throats and gunning down maniacs at age 7. Cut to her wedding day. Derek, the man of her dreams, is played by Cam Gigandet (Burlesque),who is prettier than she is. On their honeymoon in the Caribbean, a gang of thugs attack them, and she messes them up good. Then the couple goes zip-lining, and Derek falls from a faulty cable into the rain forest. She follows the ambulance that is taking him to the only hospital on the island, but when she gets to the emergency room, he has disappeared. There's no record of admittance, nobody admits to seeing him, and there are no clues to his disappearance.
The crooked detective assigned to investigate (good work here by veteran Latino lout Luis Guzmán) tries to sabotage her every move. Even Derek's millionaire father (Treat Williams, looking great but wasted in a walk-on with three lines of dialogue) suspects his daughter-in-law of a plot to cash in on Derek's assets. Nobody believes her, so she does what Rocky would do. Equipped only with a cell phone and her fatal fists, she sets out in a tank top and the tightest shorts the law will allow and crashes through the slums, cock fights and fleshpots of Puerto Rico to find him herself, narrowly escaping the jaws of death. If anyone ever sees this movie, it could set the tourist trade in Puerto Rico back 20 years.
Slicing and dicing as many people and destroying as much property as possible while the body bags multiply, she also hacks her way through a script by James Robert Johnston and Bennett Yellin that can only be described as submental. There's no need to reveal any spoilers by telling you what the fiends she encounters are planning to do with her husband's body. You've seen it all before, hundreds of times, in better movies than In the Blood.
The director is John Stockwell, who specializes in B action programmers about innocents abroad, trapped in landscapes of horror (most notably Turistas, about tourists in Brazil kidnapped and sold for body parts). In the Blood has a similar plot but focuses on a Wonder Woman with biceps. Ms. Carano still has a lot to learn about acting, but she's certainly the one you want around in case of a home invasion.