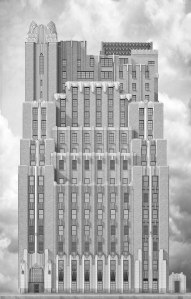 Beneath the flattened cardboard matting the lobby at 425 West 50th Street is an original terrazzo floor, and beside the elevator bank, a gilded, over-sized letter box. In one corner, a television that appears to date roughly from 1974 gazes dusty and long-dark on the construction workers, apartment hunters and real estate reps that for now constitute the bulk of foot traffic at Stella Tower, the second Ralph Walker-designed art-deco Verizon building repurposed in recent months as a vessel for luxury condos.
The TV, Vickey Barron told us, is not a throwback ornament. It has simply yet to be removed. But the terrazzo, letterbox and the original directory board that stands near the entrance will stay. Together with other elements, these help to compose a story that Ms. Barron—a Douglas Elliman broker and the building's listing agent—and Stella Tower's developers seek to tell, a provenance that they hope will resonate with buyers as the building commences sales this month. (Schedule A prices, excluding the four penthouses, range from $1.5 million to $9 million; Ms. Barron also handled sales at Walker Tower, which opened last year in Chelsea to celebrity clients and huge contracts, and which was also co-developed by JDS Development and Property Markets Group.)
"This neighborhood is an authentic, New York location," Ms. Barron said of Hell's Kitchen, when we met her on site for a tour. "There's really nothing fake about it. It's rich in artistic substance, and people looking to buy here are unlikely to respond to a kind of Big Box-style product." Stella Tower, named for Walker's wife, aims for designs that suggest "homes for the future created with the integrity of the past."
Whether or not years gone by had any more integrity than the present day is a rather knotty question, but to be sure, any chronicle of New York's past will include a good deal of boozing and bookishness, and a library and noir-ish lounge off the lobby are sure to please aficionados of vices both liquid and literary. For the less loungey set, a modern fitness center will look out from the ground floor through large, light-washed windows onto 50th Street.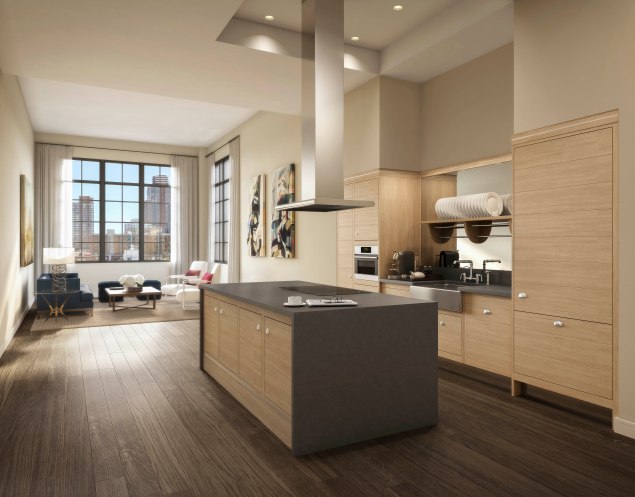 On the 15th floor, which houses a two-bedroom show unit priced at $4 million, the building's studied industrial chic was palpable. A wide, bright corridor with big windows and high ceilings had been hung with charcoal sketches of heavy equipment and hard-hatted workers, and an oil canvas near the elevators showed a length of rope against a dusty clay background. These images, part of the "sales process," according to Ms. Barron, were meant to exemplify "the art of construction," a theme seemingly intended to lend artisanal flair to the raw materials of development.
In the 1,727 square-foot show apartment, an exposed beam, painted shiny black, and a sculpture composed of old wooden tools culled from a flea market adorned the living room, which also contained a bar cart. A sleek Smallbone kitchen had been paneled in light organic French wood. Counters were heavy, dark and polished, made of custom-poured concrete. "Not all concrete is created equal," Ms. Barron said. "Sometimes I go into resales and the counter tops remind me of driveways."
Walls had been painted in hues of periwinkle and honeydew; bathrooms throughout the building are outfitted with steam showers, stylish industrial sinks and mirrors that roll laterally along tracks, like mining carts. There are views of the Hudson River and the Time Warner Center, and for at least one penthouse, truly jaw-dropping terrace space, which Ms. Barron judged—quite accurately—as suitable for rock stars. In the show unit were items redolent of a more low-key lifestyle, and of Brooklyn boutiques: books by César Aira and Elizabeth Gilbert, black-and-white photos of men in pork pie hats, an enormous magnifying glass, a typewriter. In one bedroom, a pair of boots and a canvas bag packed with towels seemed poised for a weekend in the Hamptons. These accessories, too, Ms. Barron said, were part of the story.
Stella Tower will contain 51 homes in all, mostly one and two-bedrooms, and Ms. Barron predicts that the building, like Walker Tower, will be "a home run." Though their respective neighborhoods are far from equally desirable. Located in the nascent Hudson Yards, a neighborhood still lacking in retail and transportation options commensurate with ultra-luxury condos, the building's price point is significantly lower than at Walker Tower, where Ms. Barron currently has a $47.5 million penthouse listing. Still, she said, "We will gradually increase our prices and be able to sustain those increases just like we did at Walker Tower."
Upstairs, in an unfinished penthouse, sheets of purple sheet rock lay stacked and hardware strewn on raw floors. A man struggled politely to maneuver a brick-laden wheelbarrow among cumbersome visitors. Asked how she thought the artsy types that Stella Tower seemed to target might afford such steep prices, Ms. Barron suggested, rather reasonably, that plenty of bankers and lawyers had strong artistic interests and discerning eyes. And many artists, anyway, have partners with more traditionally remunerative professions.
"I think it's beautiful," she said, indicating the traffic of carpenters and laborers, the half-realized opulence of our surroundings. "Why can't construction be art?"