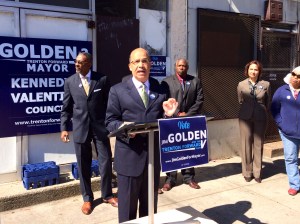 TRENTON – A candidate vying to be the next Trenton mayor is predicting a runoff election in New Jersey's capital city.
Jim Golden, a police veteran who served as Trenton's police director more than a decade ago, says everything is pointing to a runoff election in the coming weeks. Golden is up against five other mayoral hopefuls in the first municipal election in Trenton since the removal of former mayor and convicted felon Tony Mack.
"From every indication," said Golden on Monday following a news conference, "There's very likely to be a runoff."
The election is slated for May 13 and Golden's rivals include Eric Jackson, director of the Department of Public Works and Urban Development in Plainfield and the former Trenton Public Works director.
The former police director who's running a law and order candidacy said he hopes any of the other candidates who share his vision for the city of Trenton "join the Golden team" in the event "there's a runoff one June 10 and we're fortunate enough to be in it."