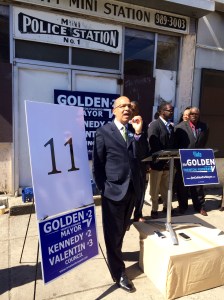 TRENTON – Standing in front of a shuttered police substation next to a poster board with the numeral "11" printed in bold to signify the number of murders in the city over the last four months, Trenton mayoral hopeful Jim Golden declared Monday "enough is enough."
"We need to stem the flow of blood on our streets," said Golden, standing on a Trenton street corner lined with aging homes and businesses – many of which were boarded up and long abandoned.
"Ladies and gentlemen, we have a crime problem in the city of Trenton," he said, referring to the nearly dozen murders he claims is putting the city on track to break last year's record-setting homicide rate.
"We're headed in the wrong direction and we need to turn it around," he said. "We need to stabilize things, folks."
Golden, who served as Trenton's police director more than a decade ago, continued to showcase his law and order candidacy as the mayor's race enters its final stretch with just more than two weeks to the May 13 election.
He spoke outside the police substation he said was operational when he was police director from 2000 to 2001, and promised the more than a dozen residents who gathered to hear him speak to deliver 50 new officers within a year if elected.
Additionally, Golden wants to establish neighborhood patrol beats throughout the city and establish a "well-trained, highly-disciplined special operations unit" to combat violent crimes in New Jersey's capital city.
"We have a plan," he said, proposing "to first look inside our own house" to pay for the new officers and infrastructure.
"We cannot retreat when it comes to public safety," Golden said.
Golden is up against five other mayoral candidates listed on the upcoming municipal election ballot.
Golden's rivals include Eric Jackson, director of the Department of Public Works and Urban Development in Plainfield and the former Trenton Public Works director.
The election will be the first municipal election to take place in Trenton since the removal of former Mayor Tony Mack after he was found guilty of federal bribery and extortion charges in March.