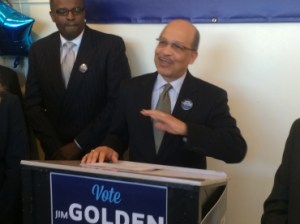 TRENTON – Nine local union chapters of the American Federation of State, County, and Municipal Employees (AFSCME) endorsed Trenton mayoral candidate Jim Golden and his Trenton Forward council slate on Wednesday. 
Golden and Trenton Forward team members Rafael Valentin and Andrew Kennedy, both of whom are running for council-at-large seats, were endorsed by AFSCME local union chapters 2646, 3974, 3974A, 3596, 1911, 3441, 2278, 3304E and 3869, according to a written statement issued by the Golden campaign. 
According to their website, AFSCME is the nation's largest and fastest growing public services employees union with more than 1.6 million working and retired members nationwide. AFSCME has approximately 3,400 local unions and 58 councils and affiliates in 46 states.
"We are honored to receive the endorsement of a coalition of AFSCME local unions." Golden said in a written statement. "This endorsement represents the strength of the Trenton Forward movement, and our ability to bring together stakeholders from across the region."
"We support Trenton Forward because they share our commitment to public service and our goal of keeping families safe and communities strong." Joe Grioff, President of AFSCME Local 3596, said in a written statement. "Jim is a true advocate for prosperity and opportunity for all Trentonians."
Golden, a former Trenton police director, is up against five other mayoral candidates listed on the May 13 municipal election ballot. 
Golden's rivals include Eric Jackson, director of the Department of Public Works and Urban Development in Plainfield and the former Trenton Public Works director. Jackson has also received local labor support, including from International Brotherhood of Electrical Workers (IBEW) Local 269 and U.A. Plumbers and Pipefitters Local 9. 
The upcoming election will be the first municipal election to take place in Trenton since the removal of former Mayor Tony Mack after he was found guilty of federal bribery and extortion charges in March.