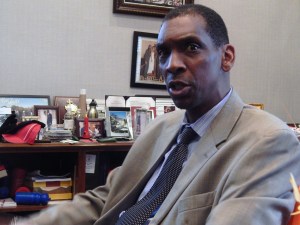 PATERSON – On a prominently placed table in the mayor's office stands a framed picture of President Barack Obama and Mayor Jeff Jones, snapped the day the president visited Paterson in the aftermath of Hurricane Irene.
While the picture shows the mayor in easy proximity to the nation's chief executive, it also carries a painful reminder to some observers of what Jones detractors cite as his downfall, when he and others in his administration collected hefty overtime checks for work rendered during the 2011 storm.
But to Jones, the connection to Obama runs deeper, and the badge of honor, what others call failure, links him no less powerfully: namely the motivation by others to destroy him politically and his and Obama's mutual unwillingness to surrender. To hear the mayor and his allies tell it, Obama had Mitch McConnell and the GOP assuring federal wreckage, and Jones had the Paterson City Council dooming the local administration.
As Obama's approval rating skids into the low 30s and Jones tries to conjure a second four-year term with time ticking down until May 13th, another inevitable comparison arises when people consider his tenure: the academic temperament Obama and Jones share, which invariably leads to conclusions about lack of executive ability.
Jones disputes those conclusions, arguing that his knowledge of policy built on years of service on the city council complement his administrative skills. Crime is down 9-13%, he said, despite a budget gap forcing him to lay off 125 cops.
He throws it back on the council members, who have issued him two no-confidence votes. "They're a legislative body, and I'm still waiting for them to act the part," said Jones.
As the contest hardens now and seven challengers oppose him, at least one of the mayor's antagonists is very publicly tired of the excuses and assignation of blame, and fails to appreciate even the slightest suggestion of Obama-Jones narrative commingling.
If there was ever any doubt about his chief target in a debate, mayoral challenger David Gilmore erased it this week when he went after Jones – hard – Monday night at the Hope Center.
The community activist put a twist on the end of the attack by chastising Council President Andre Sayegh in the first forum of the season where the mayoral candidates – with the exception of At-Large councilman Rigo Rodriguez – participated.
An Army veteran and retired administrator for IBM, Gilmore laced into Jones after the mayor blamed the system for the city's troubles. "You've got to make an impact," Gilmore later told PolitickerNJ, describing his verbal spat with the mayor.
Gilmore said Jones is in charge of an incompetent, failed administration and lacks the self-awareness or self-criticism to acknowledge his responsibility. "A fairy tale," Gilmore grumbled on the heels of Jones's presentation of the administration's successes in spite of gridlock imposed by the feds, state and city council, in the mayor's opinion.
Amid ongoing criticisms of the administration's snow removal record this brutal winter season, the challenger zeroed in the Jones administration's failure to store sufficient salt at a city yard in accord with an EPA mandate.
"The mayor and his crew and the DPW are using the site as a dump," said Gilmore.
When Jones objected, Gilmore unceremoniously told him to shut up, then laid into Sayegh.
"We don't take instructions from you," Gilmore told the council president, reminding him that it wasn't a city council meeting.
At one of the mayoral headquarters earlier today, an insider said the exchange proved Gilmore is holding out for a job as head of community development with former Mayor Jose "Joey" Torres.
"If you look at it, the way Gilmore went after Jones and Sayegh without touching Joey, it just suggests that the two are working together," the insider said, speaking on condition of anonymity.
Last month, Torres said he wouldn't rule out hiring Gilmore as his director of community development – if he beats Jones.
This past week, Democrats, including State Party Chairman John Currie, threw their weight behind Sayegh at a fundraiser in Clifton that included a swath of the city's Arab-American community. Prominent at the front of the room stood Bill Pascrell III, son of the U.S. Congressman, a ferocious Jones detractor.
Sayegh has the structure of party power with him, as the since discarded Torres had it in 2010, leaving Jones to try to summon out of the African-American churches a starting point for political redemption. Gilmore and Donna Nelson Ivy – the city's health and human services director, who has the support of former grassroots renegade Councilwoman Vera Ames – are trying to tear into the mayor's black base.
Jones acknowledged today in a sit-down that he does not excel at building political alliances.
"Yes, it's a weakness," the mayor said. "Among people who truly don't know what government is, the thinking is 'If I'm friends, or I worked on a campaign, I should obtain.' That's not what I'm here for. I'm here for public service"
As Jones slogs toward Election Day, he drags headlines, like that one about the overtime check he received – but never cashed – from the city for his stewardship of the city during Hurricane Irene, or the one just this week about a newly city acquired blimped-up SUV vehicle.
But he holds to his narrative of his status as dignified do-gooder in a world of insiders and collectively connected party pooh-bahs and players who want to protect their own power and their own advancement of power. "All I want is to be mayor," he said.
The narrative this time deprives him of the public support of his 2010 campaign manager, Assemblywoman Shavonda Sumter (D-35); and GOTV animal Assemblyman Benjie Wimberly (D-35).
Last Friday night, Wimberly surfaced at Sayegh's fundraiser.
The mayor shrugged.
"When you leave the comfort of the cradle of Paterson and enter the Democratic Party machine, that's a different animal," Jones said, in reference to Wimberly, a rising star in the Democratic Party. "We talk to each other, the same way I continue to talk to Shavonda, Benjie and [state Sen.] Nellie [Pou].
"I'm not going to do a photo op," the mayor added. "I'm not going to wait for Benjie to walk into a room so I can stand next to him. That's cheesy. Look, the assemblyman and I – our lives are the same. For every young man who kills another young man, we want to know why. For every young man who dies, we ask why. For every young woman who goes to college, we are aligned. We go to the same church."
Asked about Wimberly and Jones, an insider said Pascrell and his team badly wanted the assemblyman – not Sayegh – to run for mayor. The word was Wimberly wanted assurances from the governor's office that he would not find himself stranded – as Jones has – with little state aid compared to Paterson's needs.
Subsequent to the assemblyman's decision not to run for mayor, Wimberly's name started circulating as a gubernatorial candidate, concession buzz for him falling out of district-wide favor as the most likely successor to Pascrell.
Infuriated by the sitting mayor's decision not to back his re-election his 2012, Pascrell wanted a sure-shot ally at his side to dethrone Jones.
Wimberly's refusal to run created another ripple of irritation in Pascrell-land.
A fiercely loyal ally of former Secretary of State Hillary Clinton – the frontrunner for the 2016 Democratic nomination for president – Pascrell wants a cabinet position in a Clinton White House, the source said.
Around the time Wimberly opted out of mayoral contention, the Pascrells began showing up at events with the congressman's grandson, sparking street buzz about the younger Pascrell – not Wimberly – succeeding the congressman if the elder Pascrell gets absorbed into a post 2016 Clinton Cabinet.
Jones allies want to work that strain to keep Wimberly from going all in with Sayegh.
Wimberly looks for the moment like he wants to stay out of an increasingly contentious election.
"I'm not there yet," he said, when asked about an endorsement. "I have a good working relationship with Andre. I'm not going to let other people spooking me out of supporting Andre; and I have great respect for Jeff as a person. We have a lot of common ties, as he said. I will speak up if I have to, but they will never get me to say anything bad about Andre, Jeff, or any of the candidates, for that matter."
Gilmore, however, will happily fulfill that function in his own Jones showdown.
"The mayor thinks too much of himself," said the challenger. "It's like Lloyd Bentsen told Dan Quayle: 'You're no Jack Kennedy.' Jeff Jones is no Barack Obama."
Jones waves off his challenger's criticism.
"His whole campaign is, 'I didn't get a job and now I'm bitter and Jones is the worst,'" the mayor said, referring to Gilmore, before taking aim at the structural deficiencies in his state-supported city.
"The system," Jones said, "doesn't work."