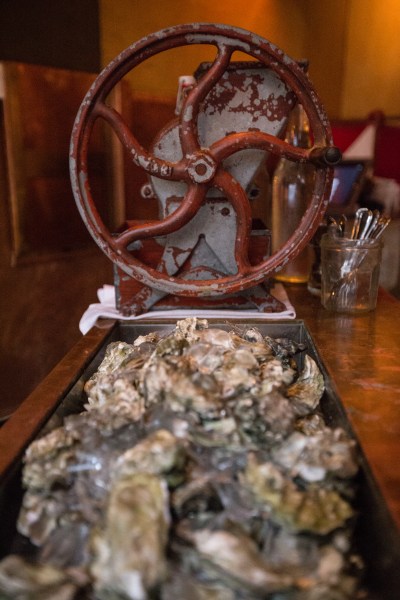 Consider it a marker of our techno-laced times that the highest compliment I can offer the lithesome women encountered at Navy, a new maritime-themed restaurant in SoHo, is that they looked like Instagrams in real life. On a recent evening, these bounteous reeds of Sullivan Street swanned through the place as if the ether were an Amaro filter. Their hair was blonder, their skin paler, their lipstick a more avant garde shade of orange. As they chatted I could almost see hashtags float next to them and long trails of likes.
Navy is the latest restaurant from Camille Becerra, who came into public consciousness as a contestant on Top Chef (back in the salad days of that series), was the chef at Paloma until it burned down in 2008, and has since worked as a food stylist, columnist and "consultant." Ms. Becerra is suave and social-media savvy. Her Tumblr is hot, and her Instagram feed, with its 53,000 followers, is like a Phaidon cookbook mashed up with Brooklyn hipster magazine The Journal: aesthetically pleasing; accomplished, relatively speaking; gently appeasing, appetizing but not libidinous.
The same can be said about Navy, which inspires fondness if not passion. Navy is a modest restaurant offering sometimes very good food, but where what is eaten is of secondary importance to who eats it and in what milieu.
The restaurant derives its charm in no small part from the space, which was designed to resemble a shabby portside cafe in 1940s Marseille with nods to the military industrial complex, from the semaphore flag-lined walls to the fold-up sink in the miniscule bathroom. It's an odd theme, but Navy is lovely, and so are its ensigns, almost as if the front entrance were a phantom tollbooth, the crossing of which upgrades one's standing in the universe. Surrounded by sylphs with Navajo sweaters, acetate bracelets and topknots, what egg sandwich doesn't taste delicious? The halo effect works at dinner, too.
For example, on a recent night, a woman approached my table — a friend of the woman with whom I was dining — and in the course of our small talk said, "I hope I don't have cress in my teeth." Her teeth were white, of course, and there was no cress there and she knew that. On the contrary, they were crammed to the gums with charm and had a pleasing sheen. Even in the low light, I could see my reflection in her smile, and though faint, it was flattering. Such is the siren charm of Navy.
As for Becerra's menu, it is basic, a little nostalgic and generally pleasing. In the good enough column is a black bass crudo with apple, avocado and lime yogurt ($15), a wholesome creation that, like wooden children's toys, is edifying in its sensibility. And a parsnip salad ($14), seemingly the most boring creation imaginable, was sculptural, with a strong interplay of flavors and textures.
Of the main courses, my favorite was a trout en croute ($34), a dish as unhip as a Yahoo! email address. Becerra ministers the old fish with tenderness, and it felt less like culinary reenactment cuisine or ironic rifling through Pepin's Le Technique than a contemporaneous dish thankfully rediscovered.
---

Navy
★★★
137 Sullivan Street
New York, NY 10012
(212) 533-1137

---
I have grave concerns, however, about the house-cured cod, a tiny fish fedora atop a golem-like latke of crispy quinoa ($14.) Similarly, a side of crispy sweet potato with olives, walnuts and sumac cream passed me by like a ship in the night ($13.) Deadlier still, Navy lacks a liquor license (blame the teetotaling stinkers at Community Board 2), leaving it the first sailor's canteen in history where you can't get smashed.
And then there's the weirdness of using war as inspiration for interior design. Can we not forswear the celebration of things (like the Navy) that shoot things? If not, I can't wait until 2034 and a rash of Vietnam War-inspired brasseries. ("Try the Operation Rockcrusher Tartine – it's sublime.")
But despite these concerns, I am a big fan of Navy, for Navy is a rejoinder to those who insist the days of neighborhood restaurants are over. While it is true some really good neighborhood restaurants have closed recently, some really good ones like Navy have opened too. And many more are humming along without the benediction of the critic class.
And even if neighborhood restaurants are declining, which I aver they are not, it has more to do with demographics giving way to psychographics. Old neighborhoods of time and space are becoming new neighborhoods of taste and sensibility. And it is to these hot-ass Odyssean voyagers that a place like Navy — where the space is warm, the clientele pleasing and the food of comforting competency — offers safe harbor and welcome home.
What the Stars Mean:
★★★★★  Philosophy. Execution. Ambiance. Deliciousness. These powers combined form five stars.
★★★★  Largely successful with a few forgivable flaws but, yeah, generally awesome.
★★★  A valiant effort, though shortcomings consign it to mediocrity.
★★  Still not on the side of the angels but not, you know, the worst.
★  Pretty terrible but a glint of goodness.
(No stars)  An abomination.