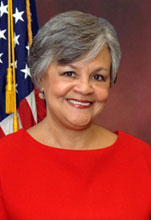 Assemblywoman Bonnie Watson Coleman's CD 12 campaign picked up the endorsement of AFSCME Local 979 Monday.
The union, which operates out of the Menlo Park Veterans Home in Middlesex County, declared the state lawmaker "has always been a friend to labor," said President Shirley Suddoth Lewis and Vice President Kimberly Patterson-Wuni in a joint statement.
"Bonnie Watson Coleman is a strong, progressive, Democrat with a backbone. Our organization knows that Bonnie believes in the priorities of President Obama and the Democratic Congress and that if she is elected to Congress she will immediately join the fight against Conservative Tea Party Republicans," they said.
"We also know that Bonnie's priorities are the same as those of our members and that she will protect Social Security and Medicare from privatization efforts and fight for equal pay for equal work," they said. "Bonnie has always been a friend to labor and her commitment to the working men and women of the district has never wavered and never faltered."
Watson Coleman is battling against state Sen. Linda Greenstein, Assemblyman Upendra Chivukula and Andrew Zwicker in the Democratic primary to succeed outgoing U.S. Rep. Rush Holt (D-12) in Congress.