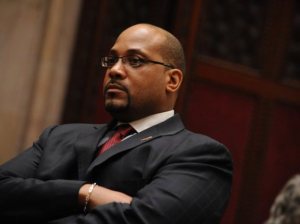 A Working Families Party-backed challenger to State Senator John Sampson, under indictment for corruption, believes he can win if he just raises enough cash.
In an interview with the Observer today, Dell Smitherman, a political coordinator for the healthcare workers union 1199 SEIU, said he's aiming for at least $250,000.
"I need to raise no less than $250,000, hopefully $300,000 to be able to have a robust campaign and get my message out to the people," Mr. Smitherman said. "I started raising money two weeks ago and I already have $5,000 in bank as we speak."
Mr. Smitherman is one of several candidates running against Mr. Sampson in a district that spans a chunk of southern and eastern Brooklyn. The contenders have emerged since Mr. Sampson was twice indicted on corruption charges and booted from the Democratic conference.
Mr. Smitherman, an experienced operative whose candidacy was first reported by the Observer, may be Mr. Sampson's most serious threat. A lifelong resident of Canarsie boasting the united backing of labor, Mr. Smitherman promised an aggressive, well-financed get-out-the-vote and targeting operation for his campaign.
He also said he was running to provide stronger constituent services to the district and help the Senate Democrats push liberal priorities, including the Dream Act and public financing for elections, through a Republican and Independent Democratic Conference-controlled chamber. "I look at the IDC and Republicans and I'm dismayed," Mr. Smitherman said.
Denied much of his clout and mired in campaign debt, Mr. Sampson is a highly vulnerable incumbent but may not be easy to defeat, observers say. Sources also say the Brooklyn Democratic Party, still close to Mr. Sampson, won't completely abandon him unless he's found guilty of his charges.
"John has some issues that he's dealing with but he's very liked in district, he has huge name recognition," Mr. Smitherman said. "That's why I need to raise that amount of money to make sure I can be victorious. If I don't raise that kind of money and don't commit myself to doing what's necessary, I won't win."
Mr. Sampson did not immediately return a request for comment.