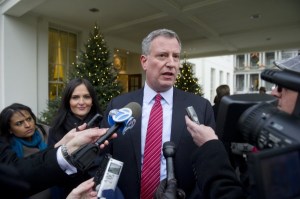 The White House issued a second statement this evening praising Mayor Bill de Blasio's pre-K push after accidentally misspelling his name.
"CORRECTED: Statement from the Press Secretary," read the subject of the email, which included an updated statement from the president's press secretary praising Mr. de Blasio and Gov. Andrew Cuomo's "remarkable work" expanding pre-K.
An earlier version of the statement mistakenly referred to "Mayor DeBlasio" instead of "Mayor de Blasio."
The president and Mr. de Blasio have appeared several times together since the mayor's inauguration.
The mayor's office quickly forwarded the corrected statement to its list of local reporters, but has not responded to a request for comment.