Not only do city dwellers know how to enjoy a cocktail, they are keener than ever to make them at home. According to many of the city's higher-end interior designers, AMC's Mad Men, returning on April 13, has played a big part in the resurgence of the home bar. The smoking ban has also curtailed the going-out habits of some of the city's sophisticates, who, while not necessarily actually wanting to smoke in bars and restaurants, hate the fact that they cannot.
"All of a sudden, almost every client is asking for a bar," says Manhattan-based interior designer Katie Ridder. "Mad Men is mentioned a lot; people are looking for the glamour of that era, too. They want a bar to include luxurious elements such as verre églomisé (metallic effects on glass), embossed or gilded wallpaper, plus glossy woodwork with a wine fridge, room for bottles and all the different glassware. Clients with young children or teenagers ask for locks. If the bar is incorporated into a bookcase, they want it to stand out with mirrored backsplashes and pretty display shelves."
Call it the Don Draper effect. Karen Duncan, the sales director of One Riverside Park, a development by Extell Development Company, tells the Observer that bars are the latest arrival to the highest-end residence. "All our five-bedroom and upward residences have home bars, the newest must-have element. These are not part of the kitchen, the traditional spot for wet-bar equipment. The new bars are beautifully constructed built-ins for special entertainment areas and living rooms."
To the modern-day, at-home mixologist, Don Draper's offerings—Smirnoff, Crown Royal and Canadian Club— seem almost charming. Today, small-batch brews, bitters and booze have come to symbolize current cocktail culture, and they've made their way from chic bars and clubs into the living room liquor cabinet.
"We try lots of different interesting whiskies, ryes and gins," says Manhattan-based photographer Annie Schlechter of the post-work ritual she shares with her husband, Russell Maret, a letter-press book designer. "Admittedly, some of the bottles' labels are much more appealing than what's inside them," she says. After a long day of shooting and the five-flight hike up to their apartment, Ms. Schlechter takes great pleasure in mixing up a Manhattan or a martini from the open shelf that runs underneath the counter along the circumference of the U-shaped island in her kitchen. Here, bottles of Makers Mark Whiskey, Gordon's Gin, Aperol, Campari, sweet vermouth and Pimm's Cup share space with locally made Templeton Rye and Fee Brothers Bitters. "Russell brewed bitters under the sink for about two years before we realized we'd need a hazmat suit to dispose of them," says Ms. Schlechter. "They were disgusting." They may have left the bitters to the experts, but Mr. Maret does make Aquavit—vodka infused with fennel and apples—every year. "It's much easier to master," says Ms. Schlechter.
Ms. Schlechter and Mr. Maret keep it casual, with random assortments of glassware that don't necessarily hew to the rules. A range of shapes and sizes keeps the cocktail making interesting and allows guests to choose the size of their drink. Ms. Schlechter and Mr. Maret are vintage glassware lovers but advise never to trust old-school shakers and strainers. "They generally don't work, so I chose function over fashion," says Ms. Schlechter. Add to that a good shot glass (or a gimlet eye, as in the case of Ms. Schechter), pretty stirrers and simple white cloth cocktail napkins.
Keeping it all out in the open is the only way Sarah Gray Miller, the former editor of Country Living magazine will have it bar-wise. In both her city and upstate New York homes, a sideboard serves as an open bar. "I grew up in Mississippi, where everyone had a bar at home. If someone dropped by, you better be able to offer them whatever they want to drink and a little something to eat," she says. The long-time Manhattanite is no fan of the specialty cocktail, which is reflected in the generous array of bottles she keeps on hand. "Offering up one kind of drink feels a little cheap to me. I want guests to sip what they want to sip," she says. "I love the old-school decanters with the silver necklaces engraved with the name of the spirit around their necks," says Miller. She admits getting panicky when she's running low on any of the following: "Hendrick's or Tanqueray Gin, because there's nothing worse than a cheap gin hangover, and I only buy best-quality scotch, because it's just not right to serve anything but. Laphroaig Single Malt is a favorite."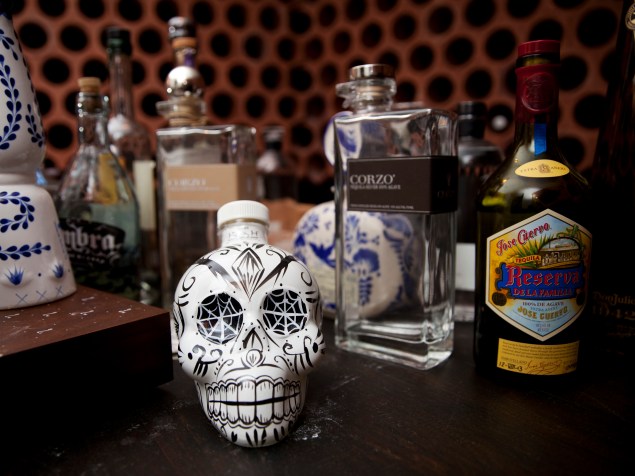 Fashion designer Lela Rose favors a more streamlined approach. "Serving a special cocktail that works with the theme of the evening is as important as the food. It sets a tone," she says. So seriously does Ms. Rose take the business of imbibing that she and her husband, Brandon Jones, installed a secret room in the sub-basement of their Tribeca loft devoted entirely to late-night indulging. The hexagonal space, with 7-and-a-half-foot ceilings and lined in a honeycomb pattern with terracotta piping, is designed to hold dozens of bottles, mainly tequila. "We've dubbed it the tequila room, because we inevitably end up in it, drinking that while the music blares. What more do you need?" says the native Texan. Ms. Rose is a huge fan of Manhattan's star mixologist Jim Meehan, who is the brains behind PDT, a cocktail bar in the East Village with a cult following. "I aspire to make his Diablo, which I will one day perfect at home."