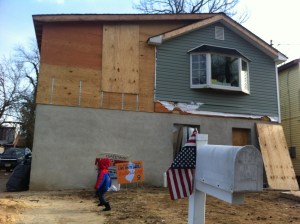 WINNERS
Steve Lonegan
Written by the Burlington/Ocean GOP establishment as a renegade without a country, the CD3 Republican Primary candidate could burnish a $2,000 check made out to him by none other than first brother Todd Christie. And the check had a date on it post Ocean GOP convention!
Tom Kean, Sr.
Community Options, Inc. will celebrate the 25th Anniversary of the organization's founding by honoring the former governor, an advocate over 25 years ago for bringing individuals with developmental disabilities out of state institutions into small group homes.
Shavar Jeffries
The Newark mayoral candidate landed the backing of the Newark Firefighters union, and was the beneficiary of a judge's decision to throw out a lawsuit filed by Newark mayoral candidate Ras Baraka that called for the removal of two Jeffries supporters from the Essex County Board of Elections. 
Mark Smith
The incumbent in the Bayonne mayor's race landed the endorsement of his one-time tormentor Jersey City Mayor Steven Fulop and has nearly $300,000 cash on hand compared to rival Jimmy Davis' almost $16,000 COH.
Andre Sayegh
The council president reported an advantage in cash on hand in the Paterson Mayor's race: $85.5 compared to $52.4 for rival and former Mayor Jose "Joey" Torres.
Jose "Joey" Torres
While it may be true that Sayegh has more money and certain organizational advantages as a consequence of his alliance with the Passaic County Democratic Organization, Torres threw a $20-per head fundraiser at Makao Lounge last Saturday night that signaled head-turning "people power." Insiders on all sides who are closely watching the Paterson Mayor's race see the eight-field contest increasingly as a fight between Torres, the former Democratic Party stalwart; and Sayegh, the party's rising standard bearer.
LOSERS
Steve Sweeney
A kid in Edison saw him and identified him as Republican Gov. Chris Christie, which might not be the look the senate president wants on a tour aimed at giving him a bigger footprint to run in the Democratic Primary for governor in 2017. Not really a big deal, but irritating when Sweeney already has the task of trying to define himself as something other than Christie's willing legislative partner.
Jimmy Davis
The fresh-eyed alternative to Mark Smith in Bayonne better have some dynamite organization because his money game looks deficient (See above). This was also the candidate whose shivering rebel forces once thought they might be able to depend on the seven league boots of Jersey City Mayor Steve Fulop, who last week backed Smith.
Team Smith in Irvington
The School Board slate backed by L. Bilal Beasley's Irvington Strong team (Audrey Lyons, Glen Vick and Romaine Greer) romped to victory this week. The machine optics of that win at the very least bode well for Beasley's mayoral candidate, School Board President Tony Vauss, who's looking to take out Mayor Wayne Smith on May 13th. Only May 13th will tell, however, as Smith may be saving his operational forces for Election Day.
Oliver Leggett
Trenton mayoral candidate Eric Jackson avoided being a loser this week by displaying the most campaign cash on hand in the money race to squelch a brutal attack on his personal finances by rival Walker Worthy. Once seen as a candidate who could muscle his way onto the Jackson-Jim Golden power pedestal, the debonair Leggett has just $1,100 cash on hand, according to the Election Law Enforcement Commission (ELEC). Golden likewise appears to have lost a step in the money and message game, ceding ground this week to Worthy on both fronts, which gives the advantage to Jackson. Without a clearly defined, single alternative to Jackson, the establishment-backed Democrat will continue to take advantage.
Jeffrey Jones
The incumbent mayor of Paterson acquitted himself substantively in debates this week, but lags behind Sayegh and Torres in the money game, with $38,150.48 cash on hand reported. Worse – the mayor reported raising just $2,000 in the last period. Jones allies can argue that they beat the million dollar Torres juggernaut four years ago with less than $100,000. But $2,000??   
New Jerseyans
It was tempting to make the general population winners this week with many politicians out of state for the Chamber of Commerce's annual Walk to Washington. But this Rutgers-Eagleton poll unfortunately intervened.  Two-thirds of residents say the state is not yet "back to normal" 18 months after Hurricane Sandy. In the words of the poll, "Among those who think recovery is not finished, just eight percent are optimistic that it will be complete within the next year. Another 58 percent think it could be up to five years before things return to their pre-Sandy conditions, while 12 percent see it taking up to a decade. And some New Jerseyans are even more pessimistic: 4 percent see recovery taking more than a decade, and 13 percent say pre-Sandy normalcy will never return."