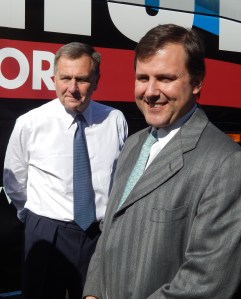 The state weathered another week of politics, as Newark mayoral candidate Shavar Jeffries upped his TV visibility with less than a month to go before Election Day; Paterson mayoral candidates took to the trail for numerous continuing debate forums; and the money game in federal contests gave glimpses of coming challenges and/or more wins and losses…
WINNERS
Joe Vitale and Jay Webber
In a show of solidarity with homeless youth, the state senator from Middlesex and assemblyman from Morris led a band of brave colleagues in the country's first-ever legislative sleep-out on the grounds of the Statehouse. The group raised more than $25,000 for Covenant House.
Leonard Lance
The GOP congressman from Hunterdon County smothered his adversaries in the money game this week. He has $465,763 in the bank compared to perennial primary challenger David Larsen (zero cash on hand) and general election opponent Janice Kovach, the mayor of Clinton Town, who has $18,334 cash-on-hand.
Bonnie Watson Coleman
The 15th District assemblywoman has $103,979 cash-on-hand, outdistancing her rival, state Sen. Linda Greenstein (D-14), and continues to benefit from the third candidate in the race, Assemblyman Upendra Chivukula (D-17), who leads in the money contest ($184,490 cash-on-hand) but is a very longs hot to win without the Democratic Party lines in CD12 anchor counties Middlesex and Mercer, where Greenstein and Watson Coleman divide party support respectively.
Mark Smith
The mayor of Bayonne looked like political roadkill when renegade Steve Fulop became mayor of Jersey City last year, and there were whispers of a fatal phone call from Fulop in which he apparently told Smith, "I'm coming for you." But after getting dumped as head of the Hudson County Democratic Organization (HCDO), Smith undertook a vigorous campaign walking tour over the summer in his hometown and repositioned himself in a posture of local strength. Last night, Fulop enthusiastically endorsed him.
John Driscoll
The governor appointed the affable former Bergen County Freeholder director – who lost his 2011 bid in a run at Senator Bob Gordon (D-38) – to the Task Force on Improving Special Education for Public School Students.
Armando Dasilva
The 3rd Ward city council candidate in Elizabeth withstood a challenge to his residency status and remains on the ballot in the hunt for a seat being vacated by retiring Councilman Joe Keenan.
Scott Garrett
Notwithstanding a good fundraising quarter for Democratic challenger Roy Cho in which he outraised the 5th District Congressman, the incumbent movement conservative still has a big warchest: $3 million, compared to $331,883 for Cho, and a Republican district where he can afford a certain early sleepy disinterest based on past successes, including a 2008 romping over a well-connected challenger running with the aid of the Obama revolution.
Alieta Eck
The Somerset doctor running for the seat vacated by retiring U.S. Rep. Rush Holt (D-12) has more cash-on-hand than Democratic favorite state Sen. Linda Greenstein (D-14). Eck reported $97,158 compared to Greenstein's $87,337, according to the Federal Election Commission (FEC).
LOSERS
Chris Christie
Gibson, Dunn and Crutcher, the law firm that exonerated the governor of wrongdoing in the Bridgegate case, gave $10,000 to the Christie-led Republican Governors' Association nine days before it released the report, according to a report in the Bergen Record. And there was more bad news for the governor this week. Public satisfaction with New Jersey's Superstorm Sandy recovery effort dropped below 50% for the first time since the storm hit nearly 18 months ago, according to the latest Monmouth University/Asbury Park Press Poll. Nearly 3-in-4 Garden State residents say that the aid process has been too slow and place the blame more on state management of the process than on federal regulatory requirements. POLITICO also reported that state Senate Minority Leader Tom Kean (R-21) is fundraising for the son of a possible 2016 Christie rival, former Florida Governor Jeb Bush.
Aslon Goow
A federal appeals court ruling issued last month referred to "expunged records" that showed the former Ward 2 Councilman now running for mayor had been arrested and/or convicted more than 15 times, had served time in the Passaic County jail, and submitted two applications for expungement, both of which were granted." Joe Malinconico of the Herald News had the story. A crime-fighting candidate, private eye Goow was the first to release a detailed plan on the subject. The report comes at an inopportune time for the Paterson mayoral hopeful with less than a month to go before Election Day.
Anthony J. Christaldi
A grand jury this week indicted the Cape May Court House man on a charge of second-degree bribery. According to state Acting Attorney General John Hoffman, Christaldi earlier this year paid $10,000 as a bribe to an official who handles real estate purchases for the CRDA's voluntary land bank program.
Anthony Wilkinson
Although drained after his 2013 U.S. Senate bid (down to shy of $1 million cash-on-hand), it doesn't look like U.S. Rep. Frank Pallone (D-6) will have to sweat a general this year. Four years after then-Highlands Mayor Anna Little captured the state's attention with a fierce but ultimately unsuccessful Tea Party challenge in the 6th District, this year's Republican challenger reported no financial activity in his bid to upset the entrenched Democratic Party veteran.
Jeanette Rodriguez
A grand jury indicted the former Labor Department unemployment insurance clerk of Mount Laurel on charges of official misconduct (2nd degree), computer theft (2nd degree), and theft by deception (3rd degree). The charges are the result of an investigation by the New Jersey Department of Labor-Office of Internal Audit and the Division of Criminal Justice Specialized Crimes Bureau.